A poll by the Climate Council has found that 61% of Liberal supporters want the Turnbull Government to deliver and implement a Clean Energy Target to end uncertainty in the energy sector.
The same respondents said that they believed that introducing the CET would stimulate investment and in turn create new renewable energy sources. Incidentally, the total percentage of respondents to the survey who want to see a CET implemented also stands at 61%.
As things stand, the Renewable Energy Target timeframe runs out in 2020, but targets will more than likely be hit before then, meaning that uncertainty for renewable sources of energy will ensue.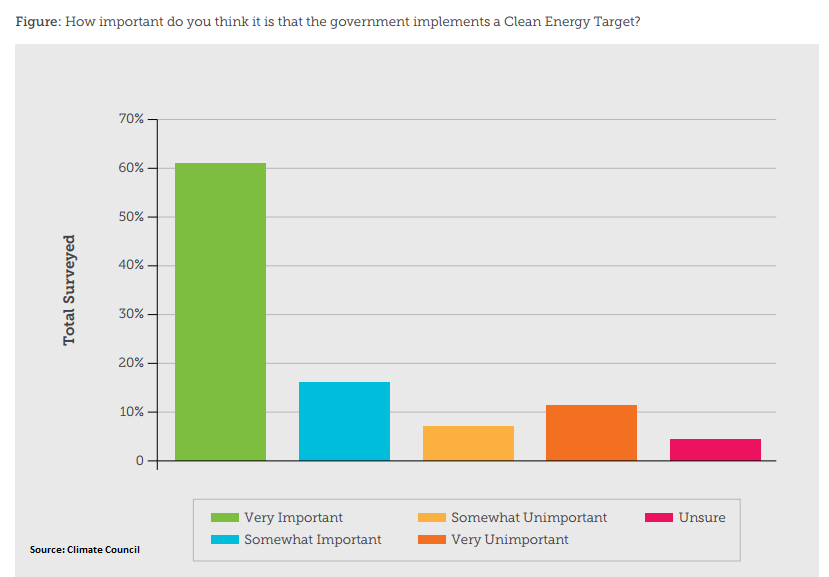 Moderates in the party are also growing frustrated by the impasse and are putting pressure on Mr Turnbull to not water down the CET as proposed by Chief Government Scientist Alan Finkel in his Energy Sector Review.
The Federal Government has agreed to implement 49 out of 50 proposals put forward by Mr Finkel, but stopped short of agreeing to the CET. The reason for this is a backbench rebellion led by former Prime Minister Tony Abbott, who wants more coal power, saying it is cheaper and more reliable.
This is at odds with what power suppliers say, many of which have committed to getting out of coal because it is a pollutant and it does not make financial sense in today's business model given the huge costs of transporting the raw materials to ageing power plants.
It is understood that Energy Minister Josh Frydenberg has been working to push through a new mechanism by the end of the year, using his own department to undertake modelling.
---
Climate Council survey finds emphatic support for CET from Green and Labor voters
The ReachTEL polling of 2,176 people earlier this month found 61 percent of Liberal voters believed it was either "very important" or "somewhat important" for the Turnbull government to implement the CET.
Labor and Greens voters were much more emphatic in their support for a CET with almost 90% and 99.5% respectively.
The polling also showed 56 percent of voters believed the Turnbull government failed to provide a "clear, long-term energy policy" to help reduce energy prices.
The support for what the Coalition government has done in trying to build a coherent energy policy is split along partisan lines. 60% of Liberal voters believe the Prime Minister has been working towards that aim, but 75% of Labor voters say he has failed in that task.
---
Climate Council CEO says it's clear that most Australians want a CET
Commenting, Climate Council Chief Executive Amanda McKenzie said the poll showed that most Australians wanted a long-term mechanism to replace the Renewable Energy Target, which will lock in investment up to 2030.
The ReachTEL poll found 61 percent of all voters said it was "very important" to implement at CET, with 16 percent saying it was "somewhat important", 7.1 percent saying it was "somewhat unimportant", 11.14 percent said it was "very unimportant" and 4.4 percent were "unsure".
The Turnbull government has been focusing on pressuring electricity retailers to offer more discounted deals, pushing for AGL Energy to keep its Liddell coal-fired power station in NSW or sell it to a third party to avoid a supply shortfall after 2022 and threatening gas producers with export restrictions unless they release more gas for domestic supply.