Senator Matt Canavan calls on Federal Government to invest more in 'clean coal' energy technology
Hints dropped about subsidies for new coal plant in Galilee Basin
Accuses power companies of trying to lock out competition
Short and medium-term prices to remain high – shield yourself now
Federal Government Resources Minister Matt Canavan has poured cold water on the notion that the $2 billion Snowy Hydro expansion project will solve Australia's energy crisis, adding the government should continue to invest in clean coal-burning technology.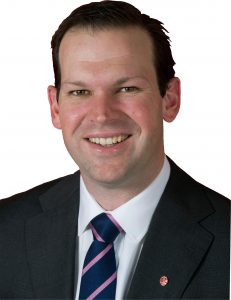 The Hydro announcement was reported by Leading Edge Energy here, just days after the South Australian Government announced a $550 million battery and gas power plant project.
The $2 billion expansion – dubbed Snowy 2.0 – aims to boost its electricity output by 50%, pushing it up to 6,100 Megawatts from the current 4,000 MW. The project, which will begin by early next year once feasibility studies are drawn up, is expected to be completed by 2022, meaning that short to medium-term prices will not be driven down. The increase in output is the equivalent of powering 500,000 homes per year.
The Minister, who is a Queensland Senator holding a Liberal National Party seat, told ABC News on Sunday that it was good to increase energy production in whichever way is viable.
---
Diverse solutions needed for diverse needs – Matt Canavan
But he warned against putting all eggs in one basket – the very same approach that put Australia in the situation it is facing today. Senator Canavan said: "We got to get over this obsession there's one solution that will solve all our energy needs. We're a big diverse country with big diverse needs in terms of our energy supply. The Snowy Mountains Hydro scheme is going to be an important addition [but] not going to make a huge difference up in north Queensland."
He said the government should consider bringing in "clean coal technologies" to keep the energy price affordable – though the jury is still out on whether such technology actually exists.
---
Potential site earmarked for a new coal plant in Queensland
Last month he said that a new baseload power plant could be subsidised through the government's $5 billion Northern Australia Infrastructure Fund, and said that the government has apparently already heard from an interested party with the intention to invest.
This, of course, makes sense in the context of Mr Canavan's remarks on Sunday to ABC, possibly laying the groundwork for a de facto political decision to give the green light to the development through direct order.
The site earmarked is next to the Adani coal mine, and the Senator also rubbished remarks by energy powerhouses AGL and Energy Australia which both said that coal was consigned to the history books as a "legacy technology", accusing them of trying to lock out competition. "Would you ask Woolworths or Coles advice about introducing Costco to the market?" he jibed. All that being said, the plant will take years to construct and to bring online, meaning that spot prices will continue to hover at exorbitant prices.
---
Short and medium energy costs to remain high – shield yourself now
In the short term, supply will remain to be what it is – dangerously low – meaning that demand will drive up costs. Futures prices should eventually come down, but we are talking years here, not months. The only way to shield your business or home from this impact is through auditing power consumption, eliminating waste and generating your own power. Our experts at Leading Edge can help you with all of this and there is no obligation to follow up on our initial review and assessment process.
---
Keep updated with the latest news in the energy industry
As an energy broker and consultancy firm, Leading Edge Energy always has an ear out on the latest energy market developments and on ways to save money on energy costs. We do this to ensure that we can provide businesses in Australia with top-notch energy cost-reduction services.
Visit our Blogs and News section to read more.
Want to get started on saving your business money on your energy spend? Contact us at 1300-852-770 or e-mail us at hello@leadingedgeenergy.com.au. Our Experts are ready to guide you.