It was a remarkable year in the electricity futures markets as we experienced record-low prices – the lowest in five years, throughout 2020. In November, we observed that all states except NSW are flatlining into the summer despite record-breaking heat and some notable spot market price spikes. It was a year that gave us catastrophic bushfires and unprecedented lockdowns but also one in which over 5GW of renewable capacity was installed. We have enjoyed supporting our customers through the rollercoaster ride of 2020, but we are looking forward to a quieter 2021. Reach out to one of our Energy Experts today if you would like to put an energy plan in place before the new year.
| | | | | |
| --- | --- | --- | --- | --- |
| Retail Rates* | NSW | VIC | QLD | SA |
| Peak | 6.6 c/kWh | 5.66 c/kWh | 5.6 c/kWh | 6.9 c/kWh |
| Off-Peak | 4.62 c/kWh | 3.88 c/kWh | 3.7 c/kWh | 4.3 c/kWh |
New South Wales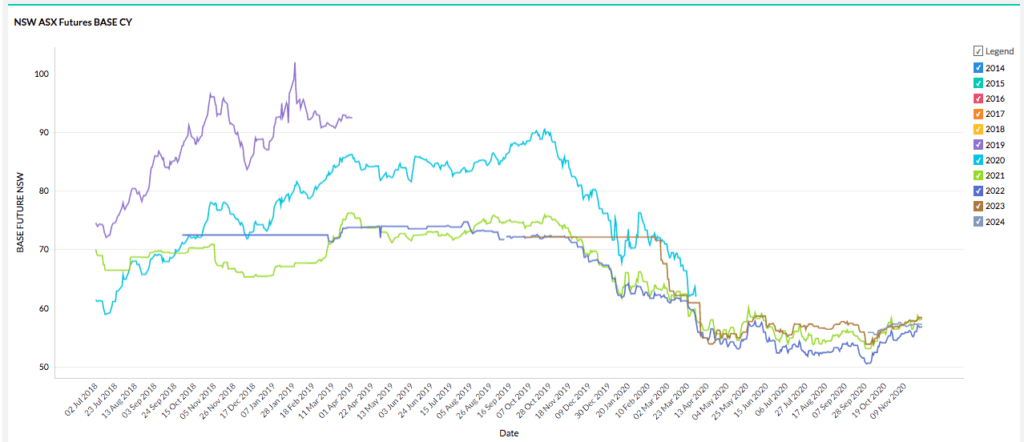 2021, 2022 and 2023 prices have risen steadily over the month up 3-4%.
2024 has flatlined just under $58/MWh.
Peak futures have risen more steeply particularly 2022 which is up 6% to $72/MWh.
How did supply and demand affect price?
The Liddell Taskforce released its report on the impacts of the Liddell Power Station's staged closure on prices, reliability and security and found that NSW wholesale prices are likely to rise from ~$60/MWh in 2022 to $75-80/MWh in 2023-4 when the closure begins.
The record-breaking heatwave at the end of the month sent demand to 12,400 MW, but the system coped well with prices remaining below $180/MWh.
Supply is looking solid coming into summer thanks to increased renewable capacity, the primary risks to security will be from flooding and cyclones as La Nina takes hold.
Victoria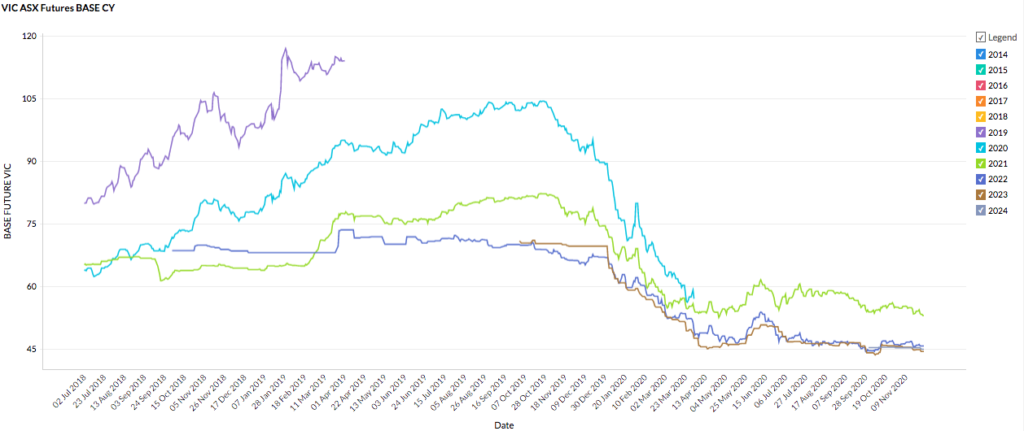 2021 continues to trade well above the other contract periods at $53/MWh compared to ~$45/MWh for 2022, 23 and 24.
All periods have been relatively flat since around May and are trading around the bottom of their historical ranges.
How did supply and demand affect price?
Victoria is continuing to benefit from increased renewable supply and a lack of outages in the thermal fleet and interconnector infrastructure.
Delayed maintenance during COVID is a source of risk in the market, and it would serve readers well to remember that this level of stability is rare in the Victorian market (think Basslink, Loy Yang, SA interconnector dramas).
Victoria was spared the worst of the heatwave at the end of the month and enjoyed low to negative spot prices while the rest of the nation sweltered.
Queensland

Futures prices for all periods are tightly consolidated and low, between $42 and $43/MWh.
Prices have been remarkably stable since July and are the lowest in the NEM barring SA's 2024 contracts.
How did supply and demand affect price?
Queensland is continuing to enjoy plentiful supply and has the highest number of rooftop solar installations in the country.
Multiple spot market price spikes above $1800 and a lack of reserve forecast by AEMO hint at increasing unpredictability and volatility as the state adjusts to its changing supply dynamics.
Demand peaked in the high 8000 MW area as temperatures rose.
South Australia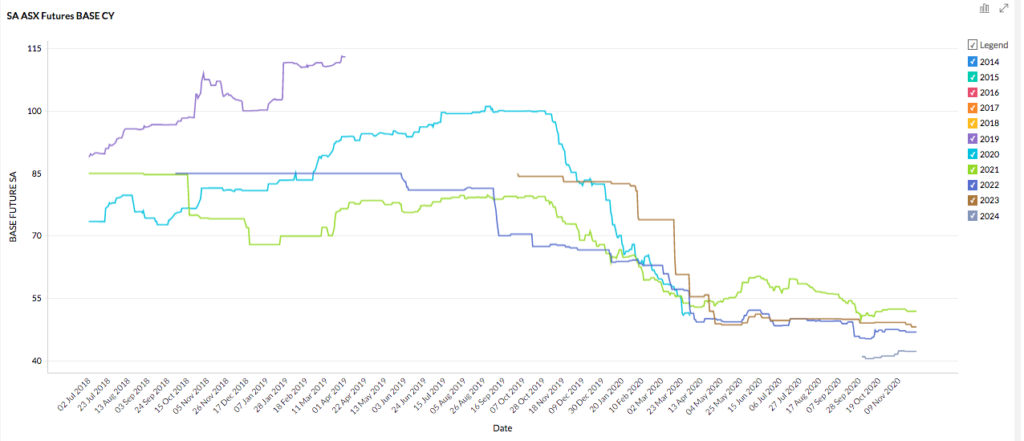 Prices for 2021, 22 and 23 have been flat throughout November trading between $47 and $52/MWh.
2024 is trading at $41/MWh which is the lowest price in the NEM, a remarkable turnaround for a state previously known for low electricity security and high prices.
How did supply and demand affect price?
After being one of the better performers during the pandemic, SA suffered an outbreak during the month and instigated a short sharp lockdown.
The lockdown was forecast to challenge low operational demand records, but as with other dire pandemic predictions for the grid, the impact failed to materialise.
SA is continuing to enjoy plentiful renewable supply and soft spot prices.
All in all, prices during November were flat and low, but these may rise as the new year approaches. After all, summer is typically the most volatile time in the NEM, so it's possible 2020 still has another surprise up its sleeve for us. There is still time to lock in a low futures contract before the end of the year and start 2021 off on the right foot. We are just a phone call away.
From the team at Leading Edge Energy, we wish you a happy holiday and a healthy and prosperous new year.
Our Energy Experts are just a phone call away – reach out to us today at 1300 852 770!
Disclaimer: The information in this communication is for general information purposes only. It is not intended as financial or investment advice and should not be interpreted or relied upon as such.