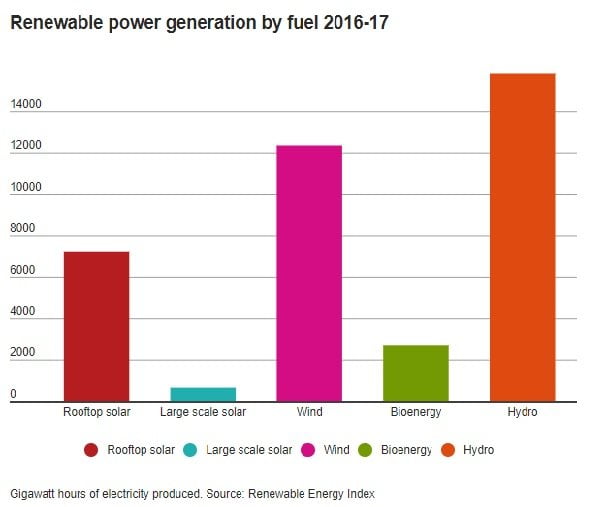 Australia produces enough renewable energy to power 70 per cent of all households in the country and makes up 17 per cent of total electricity supply according to the newly set up Renewable Energy Index.
The Renewable Energy Index will be published monthly by Green Energy Markets and will allow Australians to track the sector and access information about power supply, pollution reduction, rooftop solar savings and job creation.
The 2016-2017 Benchmark Report was funded by GetUp and showed that power generated by renewables was largely from hydro and wind, but surprisingly rooftop solar was the third biggest contributor.
Renewable energy accounted for enough power to keep the lights on in 7.1 million homes. Last year, renewable energy generation accounted for 17 per cent of total electricity supply, up 10 per cent from 2006.
It is also set to increase with projects currently under construction expected to add enough electricity to power another 1.5 million homes, bringing the total to 90 per cent of household consumption.
The Renewable Energy Index found that there were 46 major renewable energy projects under construction at the end of 2016-17, which are estimated to employ 8,868 full-time people for one year.
Many of these jobs will be in NSW, where 3,018 job years will be created mostly from the construction of new wind farms.
Queensland is in second place with 2,625 job years, 70 per cent from solar farm construction and the remainder from wind farms.
Nearly 150,000 small-scale rooftop solar systems were installed in the year to June 2017, enough to power 226,000 homes.
It is estimated that these solar systems will also save consumers $1.6 billion off their electricity bills over the next 10 years. Clean energy also helped to prevent carbon pollution equal to removing 8.1 million cars from the road, which is more than half of all the cars in Australia.
---
Renewable Energy Index to be published monthly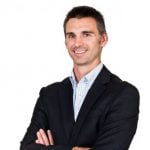 Director of analysis and advisory Tristan Edis said large-scale solar was expected to grow substantially in the next year as construction costs have come down.
"The thing that's concerning is that really, we're in a boom right now but in 12 months time it looks like a bust."
Mr Edis said the boom had been encouraged by the Renewable Energy Target, which will finish in 2020. But this target will likely be achieved early, by the end of next year based on the current rates.
Unless a new target is adopted, such as the Clean Energy Target recommended by the Finkel report, Mr Edis said growth in renewables won't continue.
"The renewable energy sector has staged a remarkable recovery, after investment completely dried-up under former prime minister Tony Abbott," Mr Edis said.
He said investors had recovered their confidence under the leadership of Malcolm Turnbull, who introduced a change in tone and attitude towards the Renewable Energy Target.
"However the current boom in renewable energy investment and jobs could soon turn to bust unless the Federal Government moves forward on Finkel's recommendation for a Clean Energy Target."
---
About Leading Edge
Leading Edge Energy is an energy cost reduction consultancy. We assist our clients by applying a holistic lens to your energy costs whereby we guide you through the complete energy cost reduction cycle from rates minimization to energy efficiency, solar generation and battery storage.
Our initial review and assessment process is a complimentary service and you are not obliged to accept any offer that we recommend to you.
Call us today on 1300 852 770 or visit our website to get a quote.