The New South Wales Government has announced a massive $32 billion Renewable Energy Roadmap focusing on new wind and solar generation projects and large-scale battery storage to replace the state's creaking coal fleet.
The New South Wales Electricity Infrastructure Roadmap was launched by Energy Minister Matt Kean and has promised cleaner and cheaper energy for customers. The completion target for the investment plan is 2030.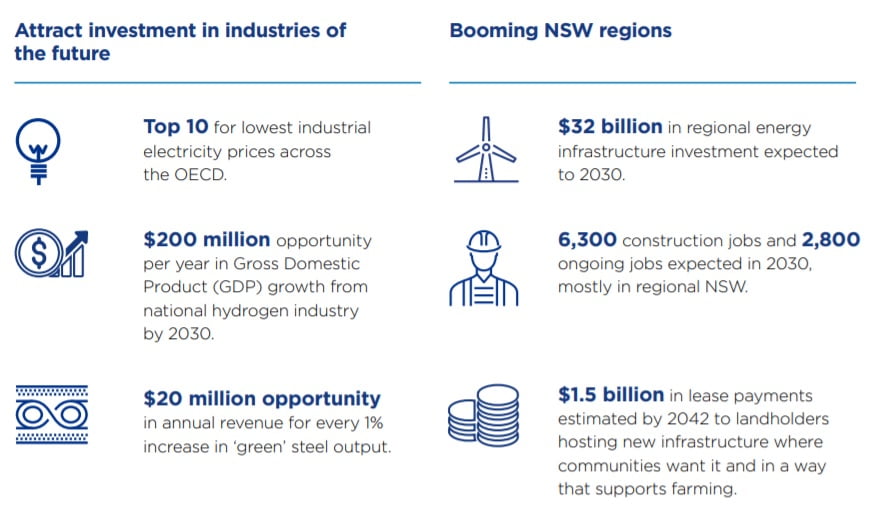 The plan was developed on five pillars:
1. Driving investment in regional NSW
Supporting NSW regions as the State's economic and energy powerhouse
2. Delivering energy storage infrastructure
Supporting stable, long-term energy storage in NSW
3. Delivering Renewable Energy Zones
Coordinating regional transmission and renewable generation in the right places for local communities.
4. Keeping the grid secure and reliable
Backing the system with gas, batteries or other reliable sources as needed.
5. Harnessing opportunities for industry
Empowering new and revitalised industries with cheap, reliable and low emissions electricity.
---
Renewable Energy Capacity
On the energy roadmap, the state government is targeting 12 GW of new renewable energy capacity over and above the "business as usual" scenario with an additional 2 GW of storage coming online by 2030.
The renewables action points will be supported by an Infrastructure Investment Safeguard to offer long-term energy services agreements by means of a tender for energy generation, long-duration storage, and firming to buffer against a shortfall in supply.
Under the agreements, the NSW Government will offer an electricity price floor to those projects which are developed to converge with the infrastructure strategy.
This will ensure the right investment signals are sent to the market to build the right projects in the right places.
---
Coal power plants to be retired in NSW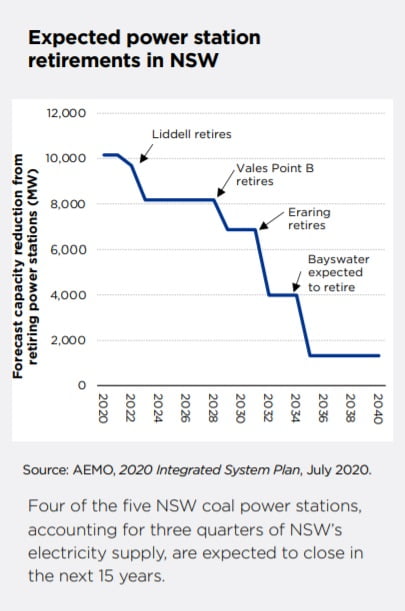 Most of NSW's coal power plants will be retired in the next 10 to 20 years and the roadmap is designed around that fact.
Mr Kean said: "NSW has some of the best natural resources in the world and this Roadmap is about acting now to leverage our competitive advantage and to position NSW as an energy superpower."
The NSW Government is also extending its existing Emerging Energy Program to offer $50 million in grants in the upcoming budget to support new pumped hydro storage developments
The plan is ambitious and aims to reduce NSW electricity sector emissions by around half, from 190 million tonnes of carbon dioxide to 90 million tonnes annually.
This will turn the state into one of the lowest carbon cost regions in the developed world.
In terms of the economy, the plan is expected to directly create some 6,300 construction jobs and 2,800 ongoing jobs, mostly in regional NSW by 2030.
The NSW Government's modelling predicts that retail electricity prices will go down by about 8 per cent and would save $12.4 billion in energy system costs.
Mr Kean said in real terms, this would mean that businesses would save an average of $430 per year on their electricity bill, while homes would see their bills reduced by around $130 per year.
The plan is set to incorporate the farming industry, by making contractual arrangements between farmers and developers of solar, wind, and storage projects, which will deliver $1.5 billion in land access payments to farmers by 2042.
The Electricity Infrastructure Roadmap follows the release of a Transmission Infrastructure Strategy by the NSW government, which pointed to the need for three new renewable energy zones to be established across the state, including developments in the Central-West, New England and South-West regions of the state.
Clean Energy Investment Group Chair Simon Corbell welcomed the news, saying: "This Roadmap is a welcome plan for private sector investors, harnessing the power of private markets to accelerate NSW's renewable energy goals – all through providing policy certainty and distinct market signals."
---
Stay current with Energy Sector developments from the Energy Experts
Changes in energy market prices and policies, as well as improvements in electricity and gas technology, can affect your business costs. So keeping updated with the latest news is a good plan.
Fortunately, our Energy Experts at Leading Edge always have an ear on the ins and outs of the energy sector and we can use this knowledge to guide your business on the road to energy efficiency and cost savings.
Want to read the latest? Check out our blogs and monthly market updates. Or, e-mail us at hello@leadingedgeenergy.com.au or call us at 1300 852 770 and we can discuss how we can help you manage your energy costs.