CS Energy will repair Callide C power station for a hefty bill to the tune of $200 million, putting to rest speculation by the Queensland state government that the plant could be closed early, given the extent of the damage caused by a recent explosion.
The explosion took out one turbine at Callide C and caused three other units to trip as a result.
Callide C is one of Australia's newest coal power plants, commissioned in 2001. It is one of the country's super-critical coal power stations, alongside Kogan Creek Power Station, and was designed with a lifespan running till 2050.
The destroyed unit will not return to operations until at least December 2022.
CS Energy chief executive Andrew Bills has informed the Australian Energy Market Operator three other units won't be returned to full generation capacity until June 8.
The sudden failure caused havoc on the grid, as 800 megawatts of electricity dropped out of the grid abruptly.
The knock on effect took out a total of 2,000 MW as other generation and transmission infrastructure, including Stanwell and Gladstone power stations.
The chaos included a breakdown of Brisbane's traffic lights system, a blackout at the airport and almost half a million customers left without power.
As the Australian Energy Market Operator scrambled to get power back into the system, Queenslanders were requested to curb their energy use.
---
Callide C explosion causing spot prices to rocket to $15,000 per MWh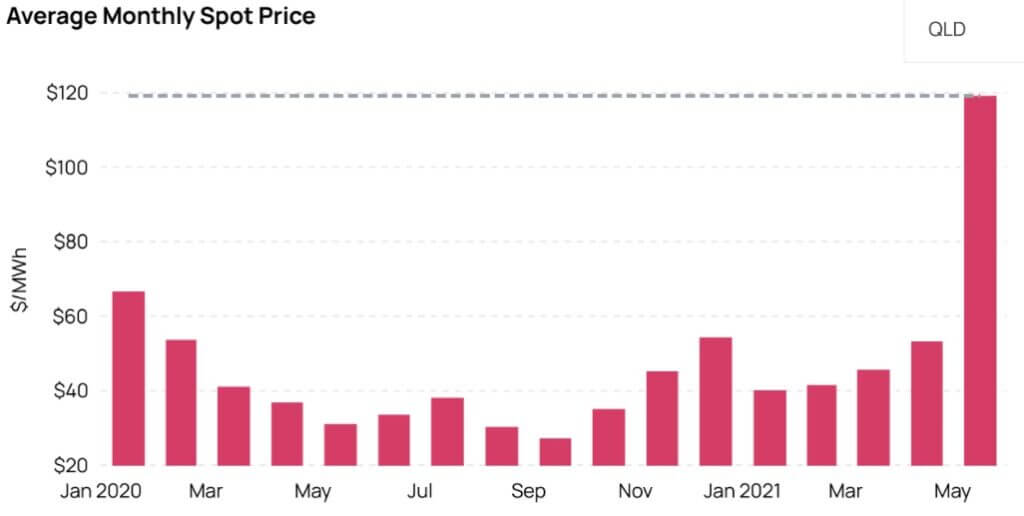 The explosion at CS Energy's Callide C left almost half a million Queensland homes without power for hours and the sudden loss of 835 Megawatts caused wholesale prices to soar to $14,700 per MWh – $14,647 more expensive than the average cost per MWh last year.
The spot price has settled to around $100 per MWh at times of low demand, but continues to rise sharply and hit the market cap of $15,000 at night when demand is high.
On the upside, the combination of 500,000 rooftop solar installations in Queensland, fully charged home battery packs and a frequency corrective measure to simulate a slowdown in supply by the Tesla battery in South Australia prevented further damage and outages.
Theories about the cause of the explosion include a hydrogen coolant leak and a broken turbine blade.
The mission to repair and rebuild turbine 4 at Callide C will be a long one. A new turbine unit must first be built overseas, shipped to Queensland and re-installed from scratch.
At the time of the explosion, Unit 1 was down for planned maintenance but CS Energy is still waiting for safety clearance to assess any damage to Units 2 and 3.
The incident has reignited debate about the future of coal in Australia's energy mix.
Coal power still accounts for 60 percent of Queensland's power generation and the state has a 50 percent renewables target in place for 2030.
Callide C's operational life is forecast till 2050, but the power plant has come under scrutiny as the Queensland state government pushes towards higher renewable energy targets.
---
Gas and pumped hydro filling in the gaps in electricity supply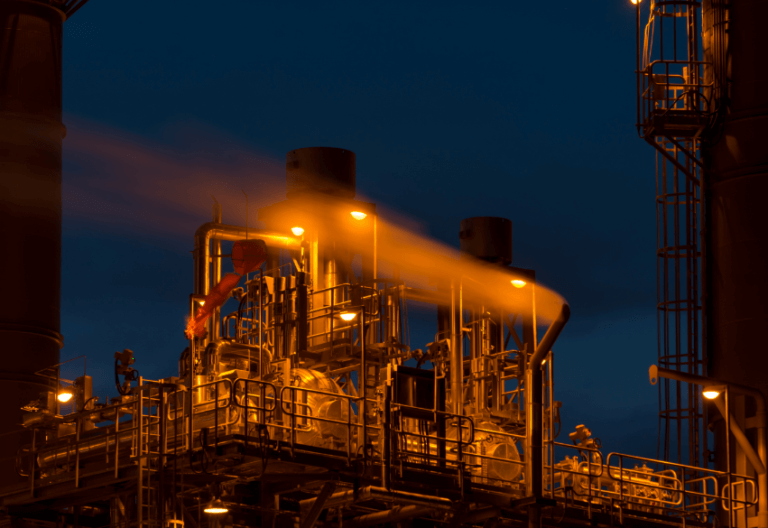 The unplanned outage at Callide C is expected to result in the greater use of gas-fired power to help fill shortfalls in the east coast grid.
Other state-owned generators, including the Wivenhoe pumped hydro plant and Swanbank E gas-fired power station, have come into the mix to fill in gaps in supply.
Alinta is understood to have fired up unit 2 units at its Braemar gas power generator after completing scheduled maintenance work.
Queensland's power grid is not out of the woods yet, with the long-term outage of one of Callide C's generating units expected to put pressure on the east coast electricity market.
Follow the latest news in the energy sector
Events like the Callide C explosion can affect energy supply and prices and as a top energy broker in Australia, Leading Edge keeps track of news like these so we can keep providing our clients with sound advice for meeting their energy efficiency and savings goals. Head over to our Blog and News section to stay updated.
Want some help staying ahead of energy price volatility? Call our Energy Experts at 1300-852-770 or e-mail us at hello@leadingedgeenergy.com.au and let's talk about how you can save on your commercial electricity costs.