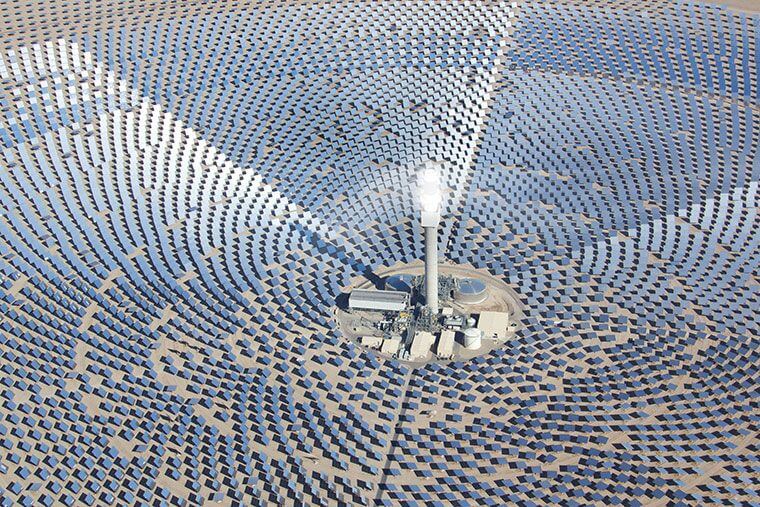 The South Australian government has commissioned a $650 million solar thermal plant which will produce 150 Megawatts of power.
Premier Jay Weatherill said the contract was awarded to Solar Reserve for 20 years and the Port Augusta plant is expected to be completed by 2020. The government intends to use 125 Megawatts of power from the solar thermal plant for all government capital projects, but will sell the surplus to other non-governmental customers.
---
Solar thermal technology uses lenses and reflectors
The plant will use concentrated solar thermal technology to harness the sun's power to generate electricity by using lenses and reflectors to concentrate sunlight, heating molten salt to produce steam to drive a turbine.
The clean solar thermal plant will fill a void for the regional town of Port Augusta, after its coal-fired Northern power station closed last year.
The project will see around 700 jobs created during construction and 50 ongoing jobs at the power station.
Independent SA senator Nick Xenophon and Port Augusta Mayor Sam Johnson said the deal will be "transformational".
---
Solar thermal project underpinned with $110m equity loan
The project is underpinned with a $110m concessional equity loan that Senator Xenophon negotiated earlier this year as part of the talks over the federal government's company tax cuts legislation.
The announcement came after Malcolm Turnbull told the South Australian Liberal Party annual meeting on Saturday that the state's strong focus on renewable energy was equal parts "ideology and idiocy".
The Prime Minister said Mr Weatherill's energy policies were an "experiment' that should have been conducted in private, not inflicted on an entire state".
Experts, however, have spoken to website Gizmodo and largely gave a big thumbs up to the solar thermal project.
---
About Leading Edge
Leading Edge Energy is an energy cost reduction consultancy. We assist our clients by applying a holistic lens to your energy costs whereby we guide you through the complete energy cost reduction cycle from rates minimization to energy efficiency, solar generation and battery storage.
Our initial review and assessment process is a complimentary service and you are not obliged to accept any offer that we recommend to you.
Call us today on 1300 852 770 or visit our website to get a quote.