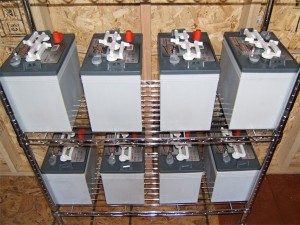 Since the introduction of the first solar buyback schemes in Australia almost ten years ago, early adopters of solar power generation have seen a fair share of both sunshine and stormy weather for their trouble. With the biting effects of network and retailer competition apparent to all since industry deregulation in 2010, a reduction to bare-bones feed-in tariffs and spiralling network costs have had early-adopting consumers, and a solar industry facing severe crimps on their bottom line forecasts as system take-up dwindles, crying for a circuit-breaker.
Many industry analysts indicate it's in this environment that residential and small business battery storage is now primed to be the new growth market in energy in Australia, and in no small way. The arrival of high-capacity battery storage technology to capture solar generation worldwide is a huge story – companies like Elon Musk's Tesla lead the way in publicity for the new technology and a host of new US and Asian players are following its lead. And it's not just residential consumers the new market is eyeing off, with some experienced analysts forecasting small to medium-sized businesses will see an almost twentyfold increase in battery storage demand over the next few years.
As with the introduction of third-party metering, what at first was seen as a specialised product that was difficult to purchase and install efficiently may soon be commonplace if, as is mooted, large energy retailers begin to offer bundled battery storage solutions for solar installations along with retail contracts and customised metering products. Within a few years vanishing buyback tariffs may become a headache of the past as residential and business solar generating consumers armed with efficient, easy to install battery storage units make the sun shine on even the gloomiest days.
Stay ahead of the energy market game and keep your business in touch with the latest trends in pricing and technology through Fortiserve's expertise and experience.