Tesla has announced that its solar roof tiles will cost $231 per square metre. This means that the material can be cheaper than conventional roofing when energy savings are factored in.
Tesla's solar roof tiles turn sunlight into readily available power which can also be stored in a Powerwall battery for consumption in the evenings.
---
Affordability of the Tesla solar roof tiles
In the blog section of its website, Tesla said the company's upcoming solar roof will be more cost-effective than one made with standard roofing materials because, in most cases, their product will eventually pay for itself when it cuts or fully eliminates a consumer's electricity bills.
Back in May 2017, we reported that "Elon Musk launches solar roof tiles", but Tesla has not yet managed to make a breakthrough in the Australian market.
Tesla said the solar roof will cost about $21.85 per square foot, which works out to $231 per square metre.
The Tesla Solar Roof combines solar and non-solar tiles. Looking at the roof from street level, the tiles look the same. Customers can select how many solar tiles they need based on their home's electricity consumption.
Tesla has also created a solar roof calculator that allows customers to immediately determine how much they would have to pay for a solar roof and compute how much energy it can produce for their site.
The computation factors in roof size, the average cost of electricity within the area, and how much sunlight the area gets yearly to give potential buyers the data they need.
The non-solar tiles Tesla uses on their roofs are comparable to the conventional roofing tiles cost-wise, as you may see in the graph below.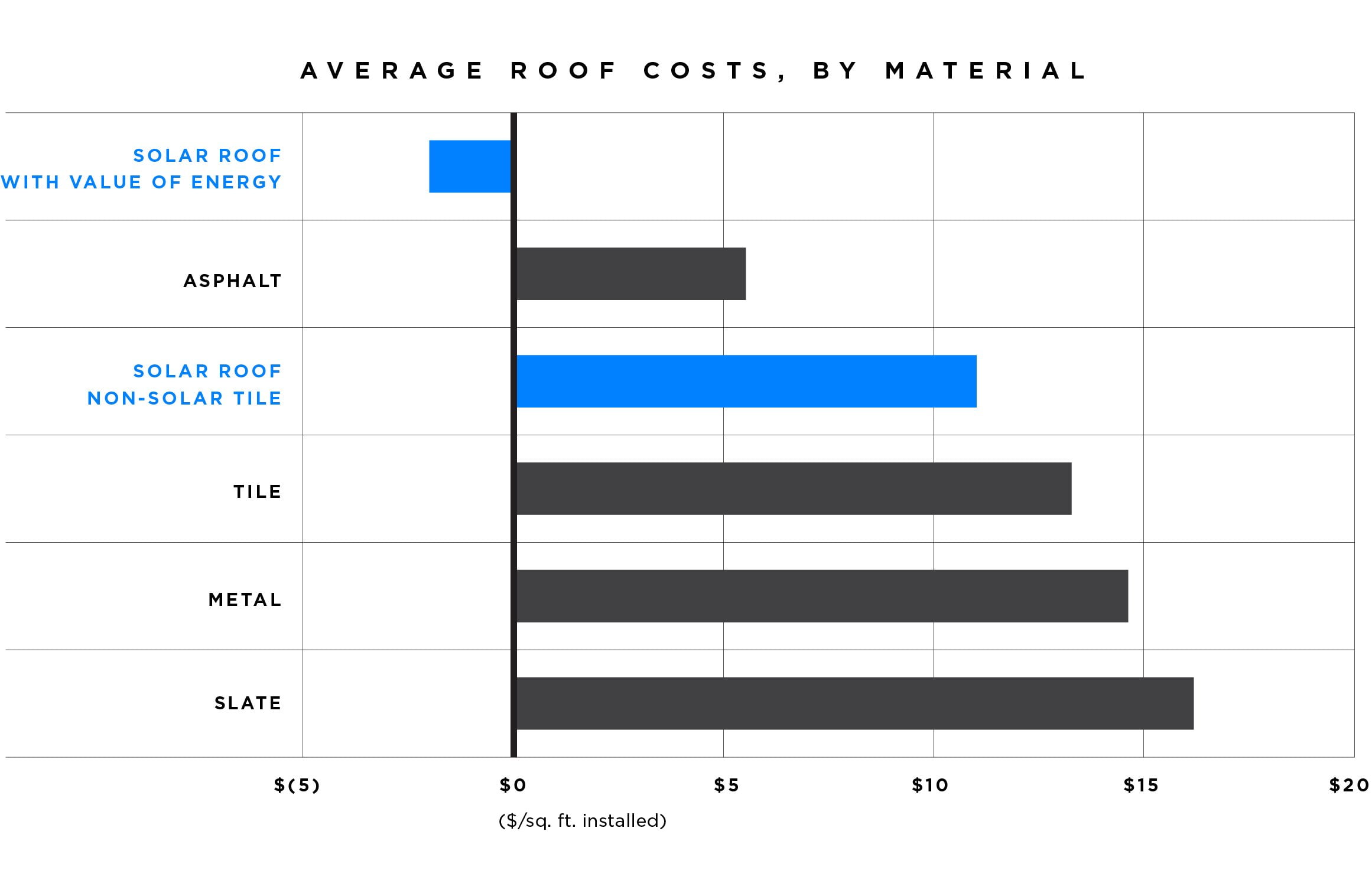 Source: Tesla
Meanwhile, although Tesla admits that their solar tiles may be more expensive upfront, the electricity the tiles produce can offset the price. In many cases, the amount reduced from the electricity bill can cover more than the roof's initial cost, according to the company.
---
Solar Roof tile durability
The solar roof tiles are especially sturdy.  They're made with tempered glass, so they are 300% stronger than typical roofing tiles. Also despite the Tesla tiles' durability, they're lighter than their market standard counterparts and are built so they don't wear out, unlike asphalt or concrete. 
According to Tesla, their solar roof tile is the most durable one found in the market and the glass comes with what they call an "Infinite Tile Warranty." Basically, the warranty lasts as long as your house is still standing, or infinity, "whichever comes first."
You can pre-order your Solar Roof from Tesla Australia against a deposit of $1,310 on the company's website.
---
Solar alternatives
Behind-the-meter rooftop solar installations are a great way to make savings for your business. You can also link rooftop solar to a battery pack. Doing so will give you control over when you use your generated power.
Want to find out more about solar power and how it can help your business save on electricity bills? Call us on 1300 852 770 or send us an email on hello@leadingedgeenerggy.com.au.