Australia has really started to open the throttle to accelerate the transition to renewable energy as we try to reach net zero emissions to combat climate change but we cannot ignore the historical role of coal in Australia and the National Energy Market.
Australia began mining coal in Coal Valley, Newcastle in New South Wales, in 1791 and this is when the historical role of coal began.
Australia was still a group of fledgling colonies, and coal was primarily used for domestic heating.
Newcastle began exporting coal in 1799.
Coal has been labelled "Australia's dirtiest habit", but it fuelled the country's extraordinary growth spurt and wealth generation.
Steamships, railways, and steam mills were powered by coal, but the introduction of electricity changed Australia's relationship with fossil fuels forever.
Coal is a massive polluter, but it shaped our country and has a prominent place in our history, even as we struggle to wean ourselves off it.
The Australian Energy Market Operator has forecast that the country's last coal power plant will shut in 2043.
Coal power plant closures are being brought forward as their profitability dwindles and renewable energy development continues at a breathtaking pace.
Australia's energy generators have also called for a national plan on the phasing out of coal.
The Australian Geoscience website states that the country's primary energy consumption is dominated by coal (around 40 per cent), oil (34 per cent) and gas (22 per cent).
Coal accounts for about 75 per cent of Australia's electricity generation, followed by gas (16 per cent), hydro (5 per cent) and wind around (2 per cent).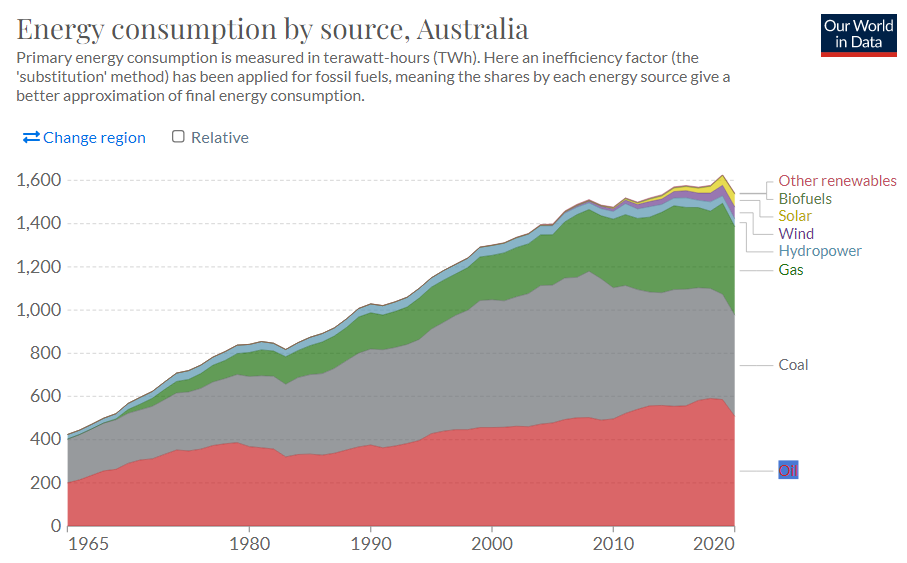 The above graph clearly shows how oil and gas still have the lion's share of generation output, but it is falling off the edge of a cliff.
---
How state governments shaped the role of coal in Australia
One of the incredible things about Australia's energy grid and supply is that legislation is created by individual states and not by the Federal Government.
European settlement of Australia began in 1788, and electricity supply started during colonial times in 1880.
The six British Crown Colonies became the founding States of the nation of Australia in 1901.
And here is where Australia's unique and complicated energy market stems from and continues to be a bone of contention today.
In 1901, the Federal Constitution only gave the Commonwealth the right to draft and implement laws on the business of statehood. Electricity – still in its infancy – was ignored by the Constitution.
This meant that legislation around electricity remained a function of the government of each state or territory.
Different states pursued different ideologies at the time, Western Australia's electrification began as a private venture, but it passed into public ownership in 1912 and has remained the same.
Victoria also largely left the process in the hands of private enterprise at first but later took control of the industry in 1921 by creating a State Electricity Commission to develop the vast brown coal deposits in the Latrobe Valley.
New South Wales did not create a legislative framework for the electrification of the state until 1919.
Before that, the process was governed by the Local Government Act, and at one time, the Sydney Council legislated against the introduction of electricity in Sydney.
In some cases, power generation projects were completed without any legislative go-ahead whatsoever.
Tasmanian private enterprise in electricity generation began in 1883. A project to create a hydroelectric dam began in 1909, but this faltered during WWI.
The project's collapse led to the Tasmanian Government Hydro Electric Department being set up, which gradually and progressively took over responsibility for electricity generation and distribution.
South Australia electrified in 1897 through what became the Adelaide Electricity Supply Company in 1904. It operated until 1946 before being nationalised, and after subsequent name changes, it was privatised in the 1990s.
On the other hand, Queensland was characterised by conflict between private enterprises and state-owned generators. It is an issue that continues to this day.
---
The first transmission lines
In the early days, electricity was a novelty and was primarily used to commemorate Royal events.
It is widely accepted that Tamworth, with a population of 3,000 in 1888, was the first Australian city where transmission lines came into effect powered by a 240 DC volt power plant.
A mixture of coke and wood fueled the power plant.
Tamworth was nicknamed The City of Light, but the project was not without its problems, and gas lighting continued to compete.
But once it became clear that incandescent electricity was cheaper, electricity won the race.
Young, even smaller than Tamworth, was the first town to get a three-phase alternating current connecting shops, offices and homes.
Early statistics are hard to come by, but in 1906, it was reported that there were 46 electric light and power stations with an aggregate capacity of 23,000kW.
In addition, there was a further 13,000kW of capacity reserved solely for trams and trains.
To put that into perspective, the average small to medium-sized Australian business consumes between 13,000 and 36,000-kilowatt-hours (kWh) per year.
---
So when did the historical role of coal generation begin?
The adoption of coal came about in Victoria in 1924 when it began to develop the Latrobe Valley brown coal (lignite) deposits.
The initial development consisted of the 50,000 kW Yallourn power station with a 160-kilometre line with 132 kV capacity to Melbourne.
The Latrobe Valley has a reserve of around 35 billion tonnes of coal which is easily excavated from the surface using bucketwheel technology.
The process was simple, dig up the high pollutant coal and put it straight into the burners to drive the turbine.
The process has remained essentially unchanged for the past 100 years, and today, Energy Australia owns the current 1,480-megawatt Yallourn plant, which supplies about a fifth of the state's electricity needs.
The plant was due to be shut down in 2032, but the company has brought the closure forward by four years early in mid-2028.
Coal plants must be kept rolling 24/7 to generate electricity to turn a profit due to inertia. Inertia is the time it takes to fire them up and get going.
Shutting them down for the day is even more financially ruinous, and recent floods just made the closure all the more inevitable.
Yallourn is a typical example of how coal is becoming unviable. The effect of the Duck Curve – caused by a glut of daytime solar energy and the ability to store it in batteries – means that it is simply no longer profitable.
The outbreak of WWII meant that all industry output in Australia was directed to the war effort.
When the war ended in 1945, industry attention was diverted to addressing severe coal and electricity shortages, leading to one of the most rapid expansions in the country's history.
By 1952, New South Wales began shifting away from stopgap diesel sites to concentrate on black coal generation under the state's Electricity Generating Authority.
The next four decades saw unparalleled growth of black coal generation under the "tied mines" concept, meaning that specific black coal mines would supply specific power plants with the fuel they needed to generate energy. About half of these mines were owned by the EGA or under a leasing contract.
Queensland's coal generation was a late bloomer. The state government had identified the central state coalfields as a potential source for electricity generation by the late 50s.
Due to pressure to preserve employment in the southern fields, politics got in the way. In the late 60s, demand from Asia massively and opportunities to export it led to the development of new power stations on the central fields from 1971 onwards.
South Australia initially relied on black coal delivered by ship from NSW. But in 1946, the Electricity Trust of South Australia acquired the assets of Adelaide Electric Supply Co and built an open cut mine on brown coal lignite at Leigh Creek, 560kn north of Adelaide.
The fuel was then hauled 250km by rail to Port Augusta, where it was burned to turn into electricity.
WA followed a similar pattern with the set up of the State Electricity Commission in 1946. Generation sites were moved closer to coalfields but were still restricted to the coast due to a lack of water cooling resources.
---
The Smelting Industry
Australia is one of the world's largest aluminium smelters and exporters. During the 1960s, coal-fired power was so cheap that companies came in their droves.
The first was set up in 1963 at Port Henry In Victoria by Alcoa. Initially, it drew around 40MW of power directly from Geelong power station.
It then built its own 150 MW brown coal power station in 1969. After that, demand grew to 350MW (supplemented by external sources).
At its height, it produced 185,000 tonnes of aluminium per year and consumed a staggering 25 per cent of the state's electricity in the early 2000s.
Other massive smelting operations included the Alcan Smelter in Kurri Kurri, NSW in 1970, Comalco in Gladstone, Queensland in 1981, Tomago in NSW in 1983 and Alcoa in Victoria in 1986.
Each of these smelters had a significant impact on how coal was used to power the Australian industry for decades.
Alcoa, for example, is part of the RERT scheme to act as a giant virtual battery when demand outstrips demand.
---
Do you want to learn more about the National Energy Market?
If you want to learn more about the National Energy Market and the latest developments in the electricity sector, you can sign up for our newsletter or visit our blog section.
If you found this blog post on the historical role of coal interesting, keep an eye out for the rest in the series of our "Exit of Coal" blog series.
---