If your business locked in energy rates when the market was very expensive, your retailer may allow you to negotiate your contract through a blend and extend agreement when prices are lower.
Your retailer will average out the cost of your existing rates with the new rates for a cheaper overall rate that kicks in immediately.
The most common reason businesses end up with an expensive energy deal is that they leave it until the last minute to secure a new deal when their current one runs out.
Market timing is key, especially when purchasing energy in advance on the wholesale market.
When businesses leave it to the last minute, they are faced with a situation where they have to pay the going rate at the time, which is sometimes expensive.
Many businesses then get stuck on a contract with high rates thinking they have no option but to wait for it to end. However, some retailers offer Blend and Extend agreements. 
---
What is a Blend and Extend agreement?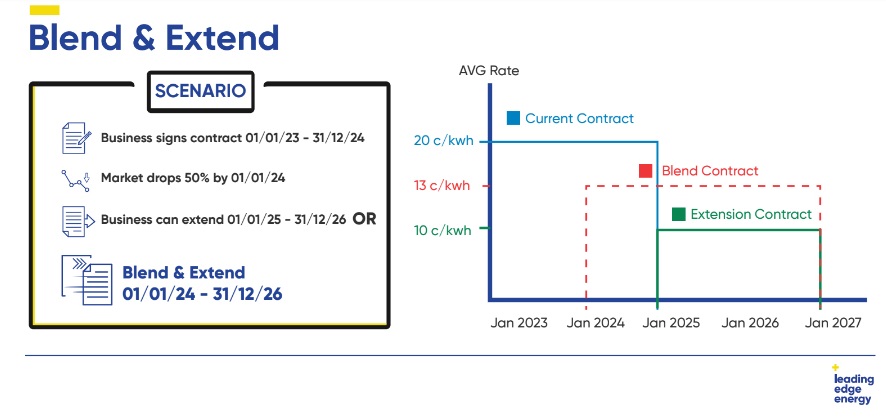 The energy market never moves in a straight line. Prices go up and down as supply and demand factors come into play.
Sometimes, the market can drop significantly, especially with wholesale future prices. Depending on your retailer, you may request a Blend and Extend Agreement.
The concept is fairly simple.
If there is a significant drop in market price, Leading Edge Energy can help you renegotiate your rates.
If your retailer allows Blend and Extend agreements, we can help you renegotiate and extend your current contract at a cheaper market price.
The new rate is calculated by averaging out the future (cheaper) contract price and the existing (more expensive) contract price.
Your contract will be extended, but the new lower rate will kick in immediately, delivering immediate savings.
One example where a blend and extend agreement resulted in big savings was the Liuzzi Group which operates in property management and development.
The Group had entered into an electricity contract when rates were high. We negotiated a blend and extend agreement for them across 18 sites, which slashed a massive $700,000 off their energy bill.
Another example was BG Leaseholds. 
The company acquired the Blue Gums Hotel and The Somerset Hotel with an existing energy contract in place.
We successfully negotiated a blend and extend agreement and when the new rates were blended with the old ones, BG Leaseholdmade an immediate $46,000 saving.
---
Market timing is key
We cannot stress the importance of market timing enough when talking about electricity prices.
Entering the market when prices are high can lead to increased energy expenses that run into hundreds and thousands of dollars, depending on the size of your business. 
In some cases, it can even lead to the business going bankrupt.
Our Energy Management Consultants are constantly plugged into the energy market.
We can advise you on the optimum time to renew your energy contract or to request a Blend and Extend agreement.
All we need is a recent bill, and we can help you time the market to reduce your future energy costs.
---
How do I get started?
Call us today on 1300 852 770 for an obligation-free consultation to find out if your business qualifies for a blend and extend agreement.
You can also book an appointment at your convenience on our Contact Page or send us an email at info@leadingedgeenergy.com.au .
Tell Me If I'm Eligible For Blend and Extend
---
Leading Edge Energy is an energy brokerage firm in Australia specialising in energy cost reduction, solar and storage procurement, electricity and natural gas use monitoring and reporting for commercial industrial clients. Follow us on LinkedIn or Facebook for updates on the energy industry and more.