Leading Edge Energy and industry partners Energywise helped the Carriage House in Wagga Wagga slash their energy spend by 43 percent through installing solar and implementing a whole raft of energy-saving measures.
After installing the solar system, and 5 other technologies to reduce wasted energy, the establishment's consumption has dropped by over a whopping one third.
As a result, we were able to apply for a new network tariff to relate to the new consumption. This led to an additional saving of $7,000 and no more demand charges! We also put a new tender out for the company's natural gas supply, securing yet another saving of $1,000 per annum.
Background: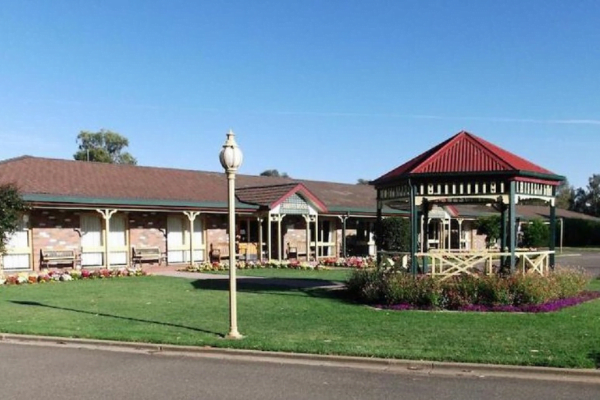 The management of Carriage House engaged Leading Edge Energy for an energy evaluation. We identified that the site would be perfect for an energy cost reduction project, as it had ample roof space for a solar system and old equipment on site which could be upgraded to become more energy efficient. The site was also sitting at 190,000 KWh's consumption per annum. Network tariffs are adjustable, and Leading Edge Energy concluded that through implementing the project, Carriage House's consumption could be reduced to below 160,000 KWhs. This enabled us to negotiate a cheaper network tariff.
The management wanted the following result and we delivered:
A fast Return On Investment
To reduce the running costs, and therefore increase the profitability of the business
Reduced maintenance costs
What we did
Leading Edge Energy requested electricity and natural gas bills to begin analysis. After a discussion with their management, the decision was made to engage our partner Energywise to carry out a full-detailed facility study of the site.
When the study was completed, we determined that the following technologies would provide a positive result:
Installation of a 23kW solar system
LED Lighting upgrades of different types of lights and fittings
Lighting sensors
Air conditioning remotes & occupancy sensors to set limits on the user to stop AC's being set to extreme and unnecessary temperatures, which leads to high energy consumption.
SolarEdge Monitoring enabling the customer to know exactly how much energy is being used and generated on their site.
Results:

We originally estimated that the kWh consumption would reduce by 31%, a conservative estimate. Install began in December and was completed in mid-January. The actual result was a 43 percent reduction in their energy spend.
Owner Joel said: "We have never seen a bill in the $2,000's!"
After February, we managed to pull the consumption down under 160,000 kWh, allowing us to change the network tariff, which resulted in a $7,000 reduction per annum. These fantastic results were achieved despite it being the hottest Australian summer on record.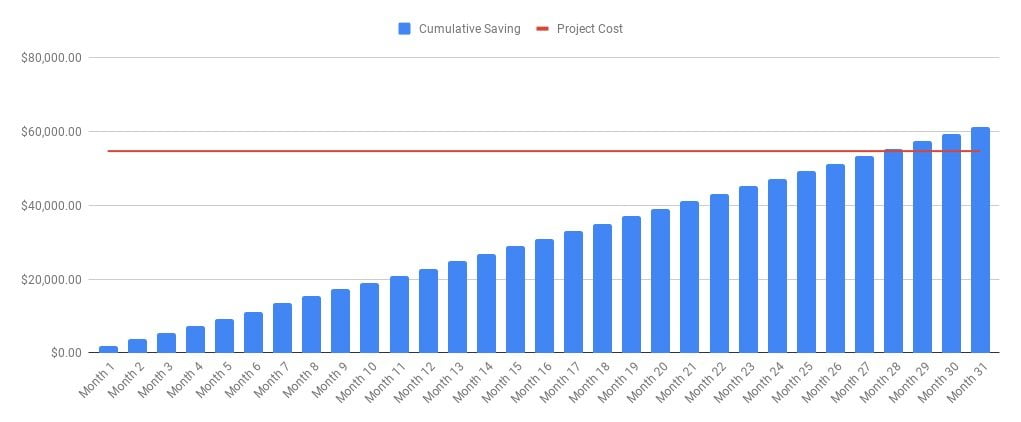 We also tendered for Carriage House's natural gas and managed to secure a saving of over $1,000 per annum, equivalent of 12%.

The biggest result was the quick turnaround on Return on Investment, as shown in the chart above.
The way forward
As shown in the chart to the right, Carriage House will see a big reduction in their energy spend and their cumulative savings will increase exponentially as time goes on.
We are monitoring the electricity market in relation to Carriage House's energy contract which will expire in the next 12 months, and we aim to secure the best rates in the market.
Find out if we can help you reduce your business energy costs
Like what you are reading? In many instances, we can find ways to reduce business energy costs. Take back control of your energy spend, call us today on +61 1300 852 770 or send us an email at info@leadingedgeenergy.com.au.