AGL Energy's Chief Executive Andy Vesey has said that the company wants to turn its coal-fired Liddell power station into a renewable energy hub after its closure in 2022 and will not buckle to sell the site to Alinta Energy.
Mr Vesey is refusing to bow to Federal Government pressure to sell the site, which is due to be decommissioned in 2022. It is understood that Hong-Kong owned Alinta Energy is formalising a bid for Liddell, which is being actively encouraged by the Turnbull Government.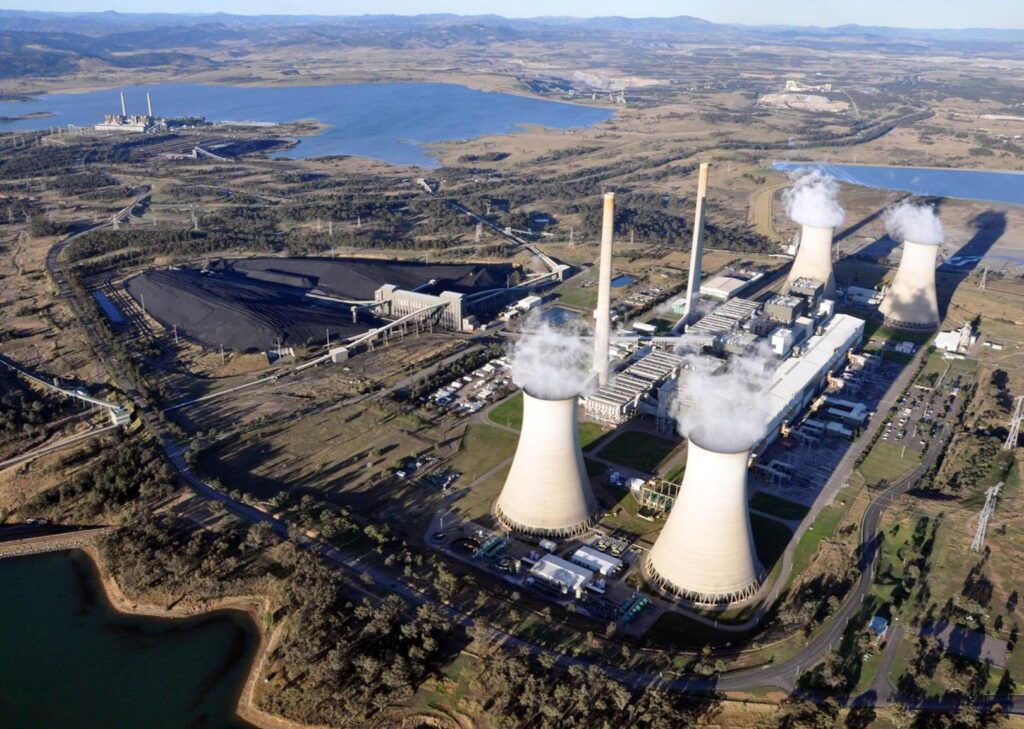 Hong Kong-based Chow Tai Fook Enterprises bought Alinta last year.
In August 2016, the federal government blocked the sale of NSW electricity network Ausgrid to Hong Kong and Chinese investors, citing national security concerns.
But Mr Frydenberg said those were different circumstances because of the nature of the assets that could be sold.
---
Coal-fired plant to be turned into renewables hub after 2022
AGL wants to turn the Liddell Power Station's site into a renewable energy hub producing electricity from gas, solar backed up by battery storage and pumped hydro storage.
Mr Vesey said AGL is "duty-bound" to consider any bid for an asset and take it very seriously if it provides value for shareholders and benefits for customers.
But he also said that the ageing Hunter Valley coal-fired generator remains an extremely valuable piece of AGL's portfolio. He said the proposed renewable integration hub would support the further development of intermittent wind and solar generation not just in New South Wales but across the National Electricity Market.
Mr Vesey has repeatedly said that AGL wants to get out of coal generation and move towards renewable energy sources.
---
ACCC head says consumers would benefit from sale of coal-powered plant
The Federal Government has accused AGL of misusing its market power by refusing to sell Liddell to a buyer that would extend its life beyond 2022. ACCC head Rod Sims has also weighed in, saying that consumers would benefit from the sale of the coal-fired plant to a new entrant, while adding that refusing to sell it could not be argued as anti-competitive behaviour.
Mr Vesey, on the other hand, made it clear that AGL's $1.4 billion plan to replace the 1,680 MW coal plant with a mix of renewables and gas was drawn up to be in line with the Federal Government's own National Energy Guarantee.
The NEG links emissions reductions with requirements for greater reliability of electricity supply. Mr Vesey said that AGL Energy did not want to see a repeat of the events that followed the sudden shutdown of Hazelwood in Victoria which resulted in energy costs being driven up astronomically.
"We're five years away from closure…we have time to do this right," he said. "That's why we are so supportive of the National Energy Guarantee to help make this happen."
Mr Vesey indirectly rejected criticism from Federal Energy Minister Josh Frydenberg that AGL has committed so far to only a small part of the investments required to replace the Liddell power station, saying it would be "arrogant" for it to assume that others would not also invest.
---
Liddell plant has a valuable connection to transmission grid
The Liddell site, adjacent to AGL's larger Bayswater plant, has a valuable connection to the transmission grid. AGL is studying the feasibility of pumped hydro at the site, and also intends to locate storage, firming and grid stability services there to make use of the infrastructure.
"Having a site available that has the electrical infrastructure we're duty-bound to try to figure out how to repurpose that," Mr Vesey said.
"Our vision is to have that as a renewable integration hub."
Mr Vesey called for others to support the NEG, which goes before the COAG energy council later this month. But he added that AGL wasn't waiting for the policy to be put in place and is taking steps already to offer products that turn intermittent wind generation into reliable, firm supply.
Energy Minister Josh Frydenberg said that when it is made later this month, AGL should seriously consider Alinta's offer to turn Liddell Power Station into a renewable energy hub.
Alinta owns some transmission assets, and gas and renewable generators and recently bought the Loy Yang B power station.
"I'm not going to go into the entrails of a decision of the Foreign Investment Review Board other than to say the broad point which is that there is a difference between the nature of certain energy assets," Mr Frydenberg said.
The minister and Prime Minister Malcolm Turnbull have spoken over the past week with AGL management and board members to emphasise their belief selling Liddell to someone who would prolong its life by a few years would be in the public interest.
"We've made it very clear that it's in the interests of the company to consider this offer," Mr Frydenberg said.
---
About Leading Edge
Leading Edge Energy is a commercial energy broker and consultancy firm in Australia. We assist our clients by applying a holistic process for energy cost-reduction that includes rates minimization to energy efficiency upgrades to solar generation and battery storage, and more, to make electricity or gas use and costs more manageable.
To start you off, we'll go through a complimentary review and assessment of your usage and latest invoices, but you are not obliged to accept any offer we recommend. Call our Energy Experts today on 1300 852 770 or drop us an email at hello@leadingedgeenergy.com.au.