After another month of record high electricity prices, the final days of July brought a glimmer of hope that pressures on the energy market may be easing. Steep declines in 2023 futures contracts were seen in all states bringing some welcome relief to consumers. Thermal capacity is slowly coming back online and we are moving toward Spring, which should see increasing solar output and milder temperatures leading to reduced demand. That said, prices are still at record highs and international pressures on gas prices are likely to continue for some time. Call our energy experts to explore electricity contracting options to help your business weather the crisis.
INDICATIVE
RATES
NSW


(c/kWh)

QLD


(c/kWh)

VIC


(c/kWh)

SA


(c/kWh)

PEAK
15.27
10.24
9.28
16.0
OFF-PEAK
9.48
7.19
6.46
10.0
---
New South Wales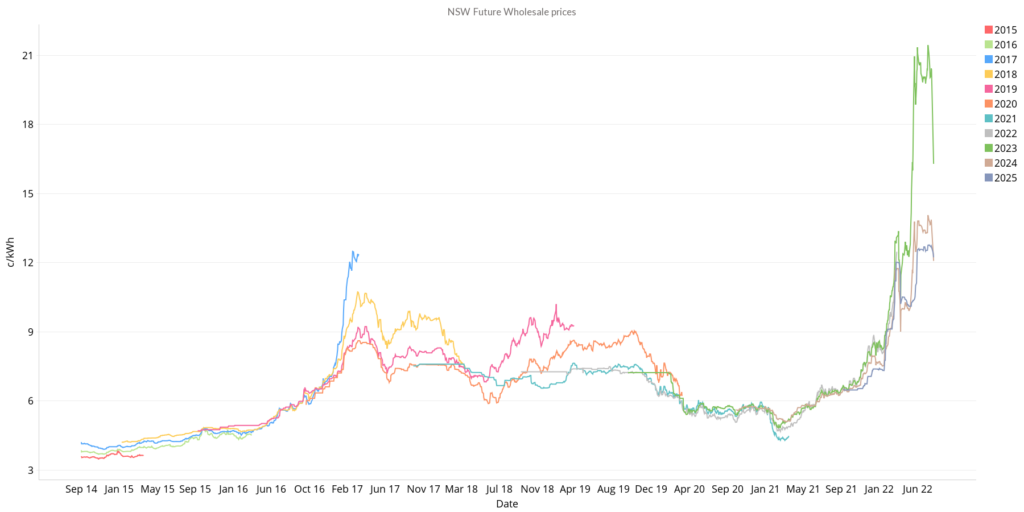 There was some relief for 2023 contracts at the end of the month with prices falling 17% over a couple of days to $169/MWh
2024 and 2025 contracts traded flat at around $135 and $125/MWh respectively with 2024 contracts falling to $125 at the end of the month.
How did supply and demand affect price?
Demand and spot prices remained high for the month of July with demand peaking at 12,415 MW and the volume weighted average spot price (VWAP) at a massive $394/MWh.
With thermal outages and gas shortages gripping the state for months, AEMO said Snowy Hydro has become a major price setter, setting prices in 47% of intervals in the last quarter.
Coming into August, the fourth unit of Bayswater looks to be coming back on line, restoring 660 MW capacity and further easing supply pressures.
---
Victoria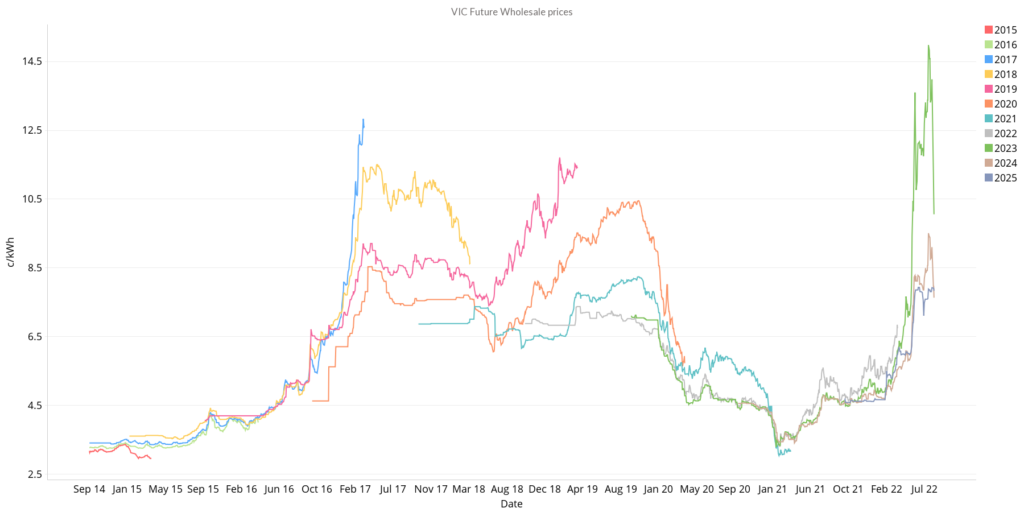 2023 contracts have plunged 29% since mid-July to $106/MWh.
2024 contracts climbed to $95/MWh before finishing the month at $79/MWh, the same price as 2025.
How did supply and demand affect price?
Unit 1 at Loy Yang A and 2 units at Yallourn returned to service in July, bringing a combined 1300 MW of much-needed capacity back to the state.
It wasn't enough to bring spot prices down though with the VWAP at an exorbitant $373/MWh.
Gas prices and constraints were largely to blame with AEMO having to intervene to curtail two Victorian gas-fired generators due to storage depletion at Iona.
---
Queensland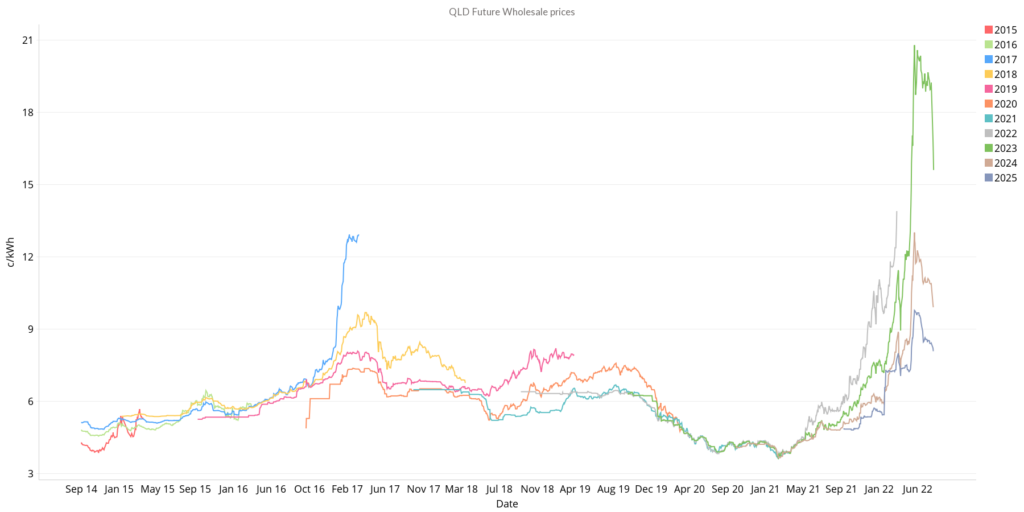 2023 contracts fell 15% in the last days of July to $163/MWh.
2024 and 2025 contracts traded flat at ~$109 and ~$85/MWh before falling at the end of the month to $98/MWh and $81/MWh respectively.
How did supply and demand affect price?
Queensland enjoyed some rare good news with a renewable record output of 60% on July 26th.
However, it barely put a dent in the spot price, with the state enduring a VWAP of $445/MWh.
Overall, renewables accounted for just 20% of Queensland's electricity with 70% coming from black coal and the remainder supplied by gas. The energy mix leaves the state highly exposed to the international energy crisis.
Coming into Spring, Queensland should see some relief as solar output increases and milder temperatures reduce demand.
---
South Australia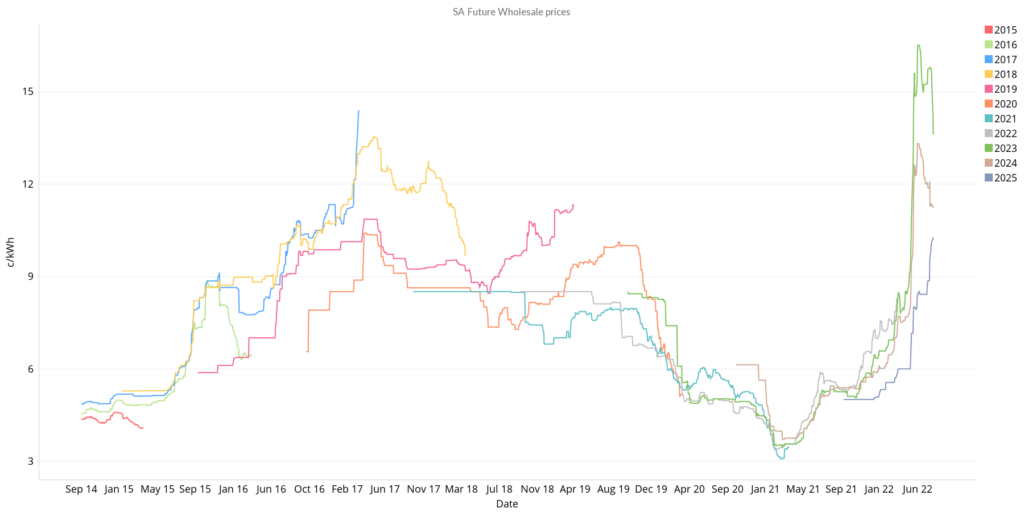 2023 contracts fell 15% to $136/MWh at the end of the month
2024 and 2025 prices are converging between $100 and $110/MWh
How did supply and demand affect price?
South Australia has seen high price volatility in July which is relatively normal for the state
As noted in previous market reviews, South Australia's generation is provided by the cheapest and most expensive fuel sources (renewable and gas peaker plants) causing wild swings from negative prices up to the price cap of $15,000/MWh
In July the VWAP was $410/MWh indicating that renewable output was not enough to counteract the impact of high gas prices
Renewables supplied just under 60% of demand, 4% came from imports with the remainder provided by gas. Increased solar output in the near term (spring, summer) and increased interconnection in the medium term (2024) should ease the impact of gas on SA's electricity prices.
---
Whilst the steep price drops that occurred at the end of the past month by no means bring prices into bargain territory they are welcome nonetheless. Several signs observed in the July 2022 energy market suggest some respite ahead. Gas prices are easing, several thermal units have come back online and we are moving into a season associated with increasing solar output and falling demand. Long-term systemic issues remain and hopes of a smooth transition are low. Want to see how you can take advantage of this calm in the storm? Call us today -as trusted energy brokers in Australia, we can help you reach your business' energy-related goals.
---
Disclaimer: The information in this communication is for general information purposes only. It is not intended as financial or investment advice and should not be interpreted or relied upon as such.