Wholesale electricity markets continue to trend upward largely due to uncertainty relating to the future mix of generation. Specifically, how much longer will we have the cost-benefit of cheap brown coal fire power generation.
For the month of November, electricity futures in all states increased on average. Victoria continued to experience the highest gains whilst South Australian prices remained relatively stable as we predicted in our previous update. We have seen some relief in the first week of December with a 2% to 3% decrease in 2017 prices in most states except SA.
---
NSW (Prices increased)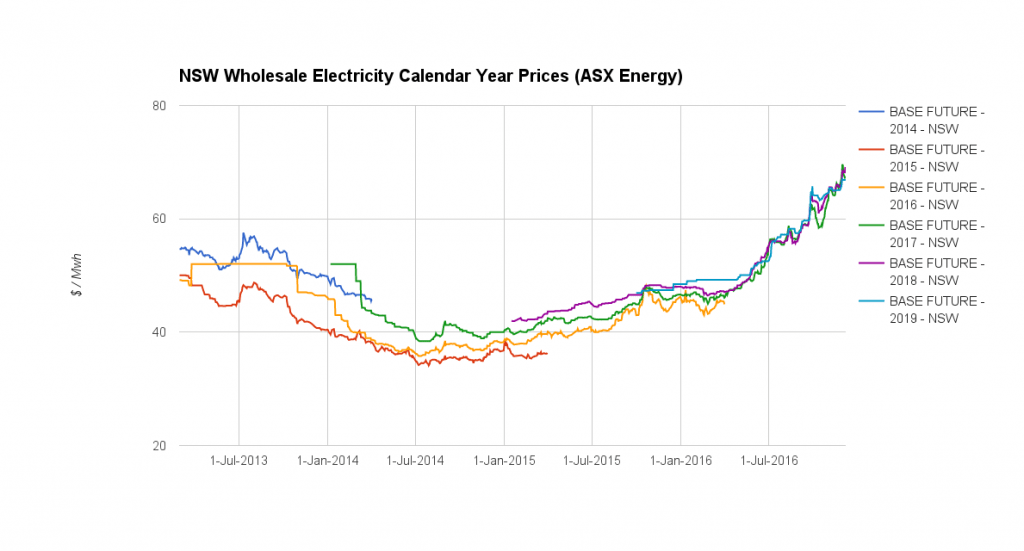 Wholesale futures prices in NSW trended up significantly in November with an average increase of just under 6.7%. This was primarily driven by continued uncertainty relating to the anticipated closure of the Hazelwood power station early next year together with speculation that further brown coal-fired plants may also close. 2017 prices experienced the biggest increase of just under 10%.
Rates settled during the first week of December with a 3% decrease in 2017 rates and an average decrease (across 2017,2018,2019) of around 0.70%
We expect prices to remain high yet stabilizing over the short term.
---
Queensland (Prices increased)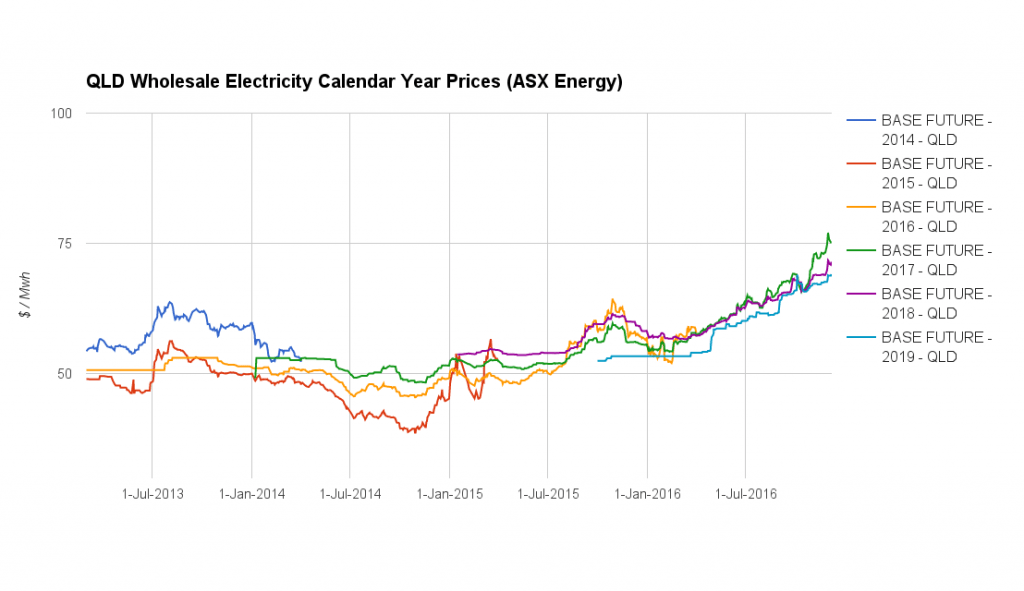 Wholesale futures prices in Queensland increased significantly by around 6% in November on average. The biggest increase was seen on 2017 pricing which increased just under 10% for the month. Queensland continues to be one of the better performing states in recent months as it is less impacted by the Hazelwood and South Australian supply-side uncertainty. Incidentally, Queensland has recorded the second lowest price rises over the past 12 months with a 29% increase and placed behind South Australia
We expect prices to remain on the current trend in the short term with marginal increases.
---
South Australia (Prices increased):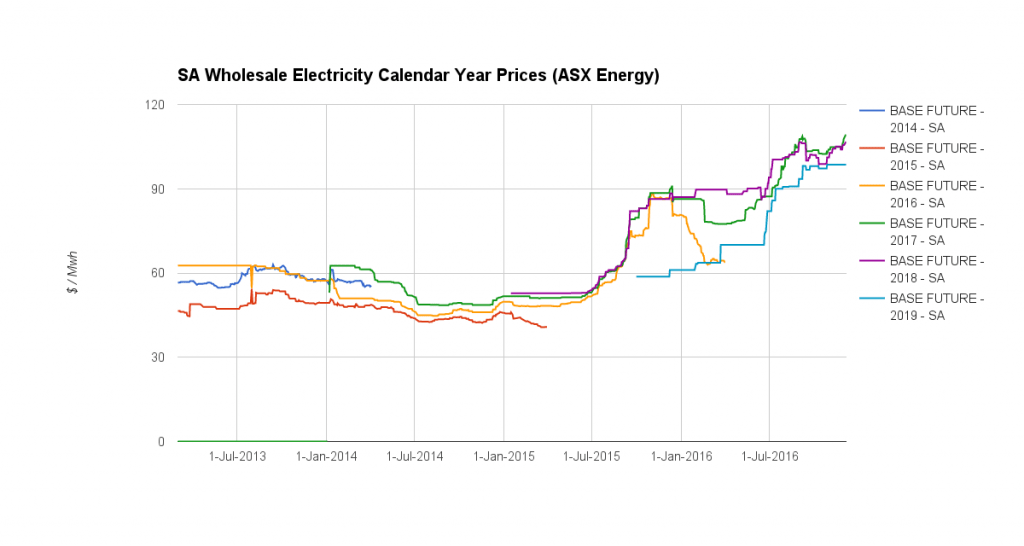 South Australia was the best-performing state on average for the month of November. Average wholesale futures prices increase by an average of around 3.50%. Despite being the best performing market (in the NEM) over the past 12 months, South Australian wholesale prices remain the highest due to significant gains throughout 2015.
We expect prices to remain on the current trend in the short term with marginal increases.
---
Victoria (Prices increased):

Victoria experienced further increases of around 8% on average in November. Commercial & industrial electricity customers in Victoria have experienced price increases of just over 60% in the past 12 months alone.
Prices have settled in December with an average 2% decrease month to date. 2017 has performed the best with a decrease of just under 3%.
We expect continued uncertainty to keep VIC prices high in the short to medium term.
In summary:
Futures market volatility is driven by the level of uncertainty about future electricity spot prices. Uncertainty is prevalent in the current market and that's why futures rates have risen so dramatically.
Final thought: Futures markets hate uncertainty. But there appears to be only one certainty in this current crazy market and that is that uncertainty is here to stay for some time yet.
---
Why do we focus on futures?
Leading Edge Energy monitors a combination of markets to track and forecast electricity price market movements. These include the retail electricity markets, wholesale spot markets and wholesale futures markets. This article focuses on wholesale futures prices as we believe that this market provides a good proxy to retail electricity price movements.
---
Follow the monthly developments in the energy market
At Leading Edge Energy, we keep a close watch on energy futures prices so that we can help businesses make sound decisions on their energy contracts and continuously deliver our top-tier energy broker and management consulting services.
Read our latest energy market reviews here. And, if you want to make savings on your business' electricity or gas bills, contact our Energy Experts through phone at 1300-852-770 or e-mail us at hello@leadingedgeenergy.com.au and we can get you started.