Energy prices in NSW and Queensland jumped around in the September 2021 energy market in response to the global energy crisis against a backdrop of the Australian government's shift in narrative towards net-zero emissions.
South Australia basked in renewable power while Victoria's prices dropped over the previous month.
Two record low-demand events were recorded in NSW and South Australia. Queensland's prices were pushed north due to coal and gas exports to the Northern Hemisphere in response to the global energy crisis and the delayed return to action of Callide C in early 2023.
Coal and gas exports also increased in NSW and South Australia.
Following the green trend, the NSW government has dramatically increased its emissions reduction targets for 2030, setting a new goal of a 50 percent cut from 2005 levels and aims to attract more than $37 billion in clean energy investment by the end of the decade.
To gain more insights into the unfolding energy transition, our new analytical tools allow you to track spot prices and fuel mix. And as always our energy experts are available to help translate those insights into an executable plan for your business – reach out now!
| | | |
| --- | --- | --- |
| STATE | PEAK RATES | OFF-PEAK RATES |
| NSW | 8.18 | 5.30 |
| VIC | 6.64 | 3.66 |
| QLD | 7.04 | 4.55 |
| SA | 8.48 | 4.74 |
---
New South Wales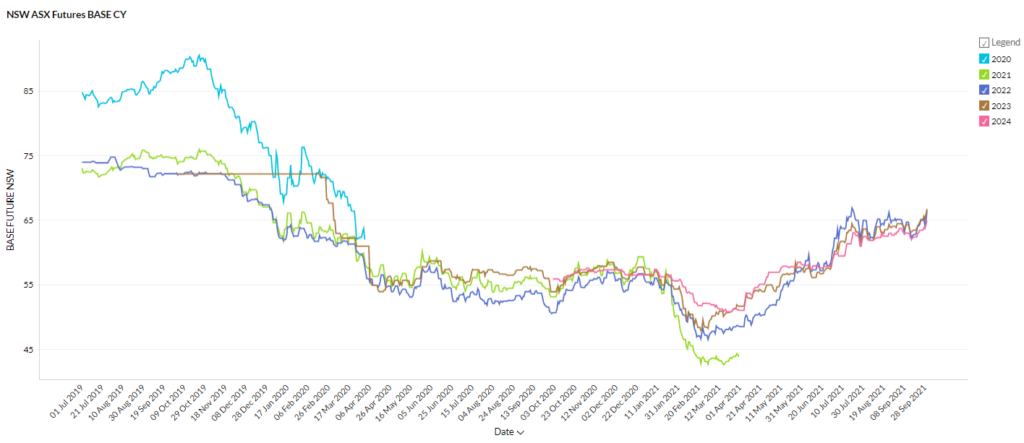 New South Wales futures bounced around in September, dipping to lows of $62 and highs of $66/MWh. 2022 and 2023 contracts ended the month at $66 and 2024 at $64/MWh.
September ended in similar territory to the previous month and prices are still the highest they have been in the last 12 months.
How did supply and demand affect price?
International demand for coal and gas has pushed prices for these commodities up to record levels with exports flourishing.
On 19 September New South Wales scheduled 4,720 MW, which marked its lowest value since the year 2000. The event was registered at 12.30pm, highlighting the midday trough in the "duck curve".
Spot prices were on average 20% lower than the previous month of August.
---
Victoria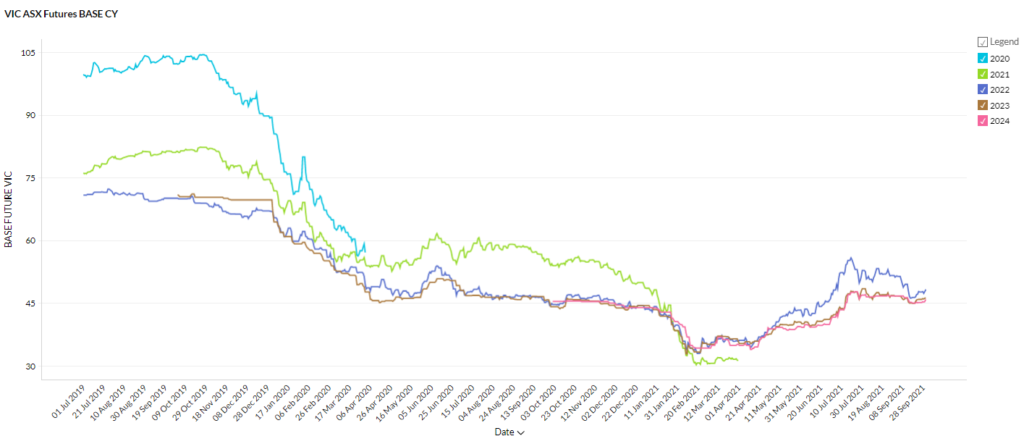 Victorian futures were largely flat at between $45 – $48MWh.
2022 started the month 10% more expensive at almost $52, falling to $48/MWh. 2023 and 2024 dropped slightly to $45 and $46 per MWh.
Prices are still around 40% higher than February lows.
How did supply and demand affect price?
Victoria is seeking 600 megawatts of new renewable energy capacity to help with increasing the state's renewable energy generation by 40% by 2025 and 50% by 2030.
Tesla and Neoen have resumed testing of a large energy storage system in Victoria on 27 September after a fire in July slowed their progress.
---
Queensland

Futures for 2022, 2023 and 2024 all followed a similar upward trajectory in September.
2022 contracts finished the month well above the later contract periods at $61/MWh while 2023 and 2024 are trading between $50 and $55/MWh.
All contract periods are up significantly from February lows of $38/MWh.
How did supply and demand affect price?
The return of Callide C's turbine 4 has been pushed back till 2023, impacting on supply and price with spot prices peaking higher than they did in August, bucking the reduced trend in all other states.
LNG and coal exporters are rushing to make hay while the sun shines as prices went through the roof in response to the global energy crisis.
The Queensland government will pour more than $580 million into increasing electricity network capacity and replacing ageing assets as part of a $52.2 billion infrastructure program. The upgraded network capacity and infrastructure will allow improved flows and connectivity to cheap renewable energy.
---
South Australia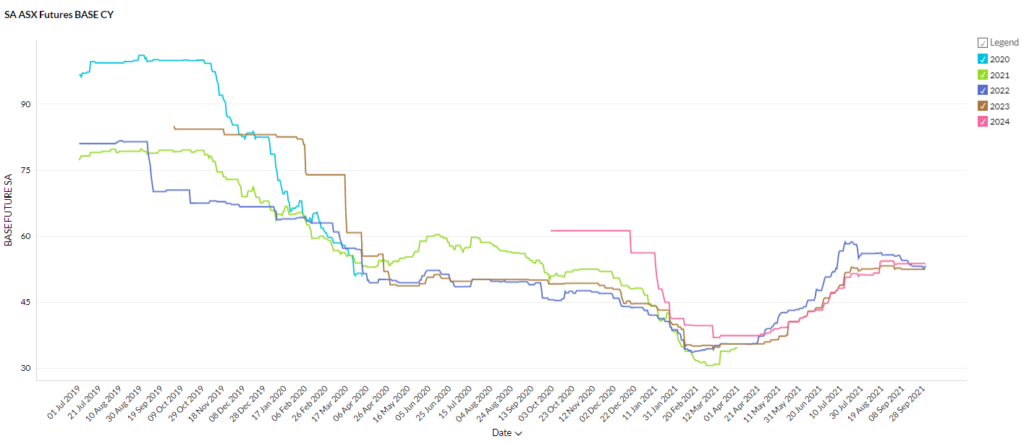 South Australia's futures maintained the stable trend they established in August.
2022 prices started the month at $55/MWh, dipping to $53. 2023 and 2024 remained dead flat at $52/MWh and $53/MWh, respectively.
How did supply and demand affect price?
South Australia registered a record low demand of 236 MW on 26 September leading to softer prices. During the event, 84 percent of South Australia's demand was met by rooftop solar.
The gas price crunch also impacted South Australian energy prices due to the fact that it relies on gas generation to make up for shortfalls when renewable energy is not plentiful.
Average spot prices throughout September were on average 40% lower than they were in August.
The global gas and power crisis has had an immediate price impact on New South Wales and Queensland due to their exposure to international black coal and LNG markets. On the other hand, it was a very flat month in Victoria and South Australia, states that are less exposed to international markets as they have no black coal generation. The Federal Government has also taken up more leadership in Australia's transition to renewable energy. Treasurer Josh Frydenberg has upped the ante, urging businesses to transition to Net Zero emissions as Australia seeks to establish a 2050 target.
If you want to learn how to prepare your business for the coming changes, as others have done, reach out to one of our expert energy brokers in Australia now!
Feel free to forward our September 2021 energy market update to a business that may also be keen to read it. Subscribe to our up-to-date wholesale electricity market analysis to get them straight into your inbox.
---
Disclaimer: The information in this communication is for general information purposes only. It is not intended as financial or investment advice and should not be interpreted or relied upon as such.