After a month of silence, Origin and Santos have come out of hiding and called on the gas industry to come up with a solution to balance LNG export and local gas demand.
The call by Santos Chief Kevin Gallagher and Origin Chief Frank Calabria comes almost a month after the Federal Government pledged to slap export restrictions on all gas companies if local supply did not meet demand.
The same companies that were content to watch profit margins soar as Australians scrambled to buy domestic gas, are now worried about a proposed licensing system for LNG exports that will be put into place by 1 July. Now, it seems that after a year of sitting pretty, producers have been shocked into action, with Origin leading the charge for an alternative solution to be put to the government.
---
Santos Chief criticizes time-frame for export mechanism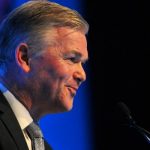 Speaking to the media on the sidelines of the Australian Petroleum Production and Exploration Association, Mr Gallagher was quoted as having said: "It's a really short period of time to design a mechanism that works fairly and sustainably."
"Trying to do this in three or four weeks, it's close on impossible, but it's high risk, it's very high high risk.
You've got to remember this is a tool that's going to be there for governments to use over the next 20, 30 years and we don't want to be chopping or changing every 3 or 4 years," he said. Santos's $US18.5 billion GLNG venture has found itself bearing the brunt of the government's announced Domestic Gas Security Mechanism, because it is the only one of the three Queensland gas exporters to buy more gas from the domestic east coast market than it provides.
Mr Gallagher has been a vocal critic of the "net domestic gas contributor" concept, which he says has the potential to unfairly single out GLNG, despite the export venture having always intended to rely partly on gas bought from other east coast producers.
He also pointed to the potential "unintended consequences" from having to apply every year for export licences, including damaging Australia's prospects for signing more long-term LNG sales contracts.
---
Gas industry players urged to pull together
"Who would sign up if they know you've got to go and get approval every 12 months to meet those commitments?" he said. "I'll go to the US for my gas because I know I can get it reliably."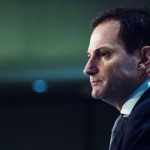 But both Mr Gallagher and Origin chief executive Frank Calabria said the industry should pull together to help balance the domestic and LNG export requirements. "The industry has to demonstrate that it can find solutions over time: We have to play for the shorter and longer term," Mr Calabria said.
"Our objective is for the industry to work together to find solutions," he said. Mr Gallagher said the whole industry should work together to find a way forward. "I'm calling on my colleagues around industry to work together to get an industry solution to take to government, because I think the government would prefer that," he said, declining to comment on what that solution might look like.
Mr Gallagher signalled Santos's three partners in the GLNG project, France's Total, Korea Gas Corp and Malaysia's Petronas, were very uneasy about the LNG export licensing plan.
"The joint venture partners want to be part of the long-term solution, but they want to have certainty over the long term and they are very nervous as you'd expect about 12-month approval cycles when you have 20-year contracts."
---
About Leading Edge
Leading Edge Energy is an energy cost reduction consultancy. We assist our clients by applying a holistic lens to your energy costs whereby we guide you through the complete energy cost reduction cycle from rates minimization to energy efficiency, solar generation and battery storage.
Our initial review and assessment process is a complimentary service and you are not obliged to accept any offer that we recommend to you.
Call us today on 1300 852 770 or visit our website to get a quote