The Australian Energy Market Operator has outlined four key action points to accelerate the transition from fossil fuels to 100 % renewable energy, emphasising instantaneous renewables.
In its Engineering Roadmap to 100% Renewables 2024, AEMO said the most important target was to achieve 100 per cent instantaneous renewables capability, meaning that power systems can instantly run on 100 per cent renewable energy sources.
AEMO Manager of Future Energy Systems, Chris Davies, said: "Readiness for 100% instantaneous renewables is a critical enabler for operating the power system regularly with high penetrations of renewables, in turn supporting the transition to a net zero energy system."
---
The four key action points to transition to 100 percent renewable energy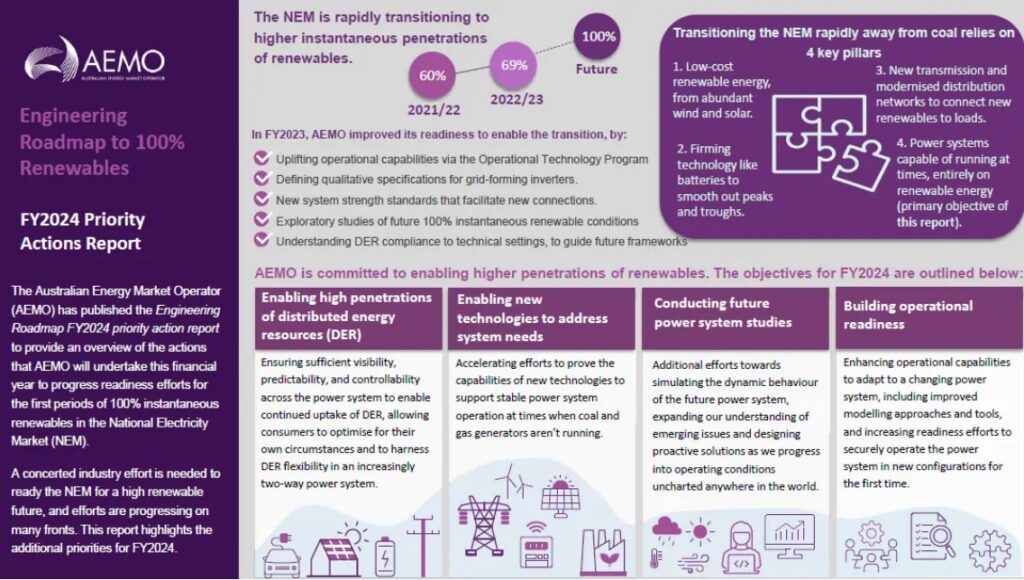 Low-cost renewable energy
To take advantage of the abundant wind, solar and hydro resources that Australia has to offer.
Firming technology
Pumped hydro, batteries, and gas generation to smooth out the peaks and fill in the gaps from intermittent renewable energy (when it's still and dark).
New transmission and modernised distribution networks
Connecting these new and diverse low-cost renewable sources of generation to Australian towns and cities.
100% instantaneous renewables
Power systems capable of running, at times, entirely on renewable energy.
The difference between the potential for instantaneous renewable energy and its actual implementation can be caused by market behaviour, network limitations, system requirements, and local restrictions on distributed photovoltaics (DPV).
The gap between renewable energy potential and its actual use is usually small on average. However, there may be a few instances where the difference is large.
One of the main reasons for periods when renewable energy implementation falls short of its potential is the dispatching of large-scale renewable generation below its maximum capacity due to low spot prices during the daytime.
During these times, the electricity demand is reduced because of distributed generation from sources like rooftop solar panels, resulting in less need for grid-connected generation.
This leads to low or even negative spot prices.
If the spot price is lower than a scheduled renewable generator bid, it will not be dispatched during these periods.
If more energy demand could be shifted to the daytime, renewable energy implementation would be expected to approach its potential.
---
AEMO achievements in 2022/23
The overall penetration of instantaneous renewable energy increased to 66 per cent in 2022/23, when compared to 63 per cent in 2021/22
On a national level, the highest incidence of instantaneous renewable energy penetration hit 68.7% on 28 October 2022.
91.5% instantaneous penetration of renewables was established in South Australia on 19 November 2022, when the region was synchronously islanded from the NEM due to interconnector issues.
.
---
How AEMO plans to increase penetration levels of instantaneous renewable energy
Uplifting operational capabilities via the Operational Technology Program
Defining qualitative specifications for grid-forming inverters.
New system strength standards that facilitate new connections.
Exploratory studies of future 100% instantaneous renewable conditions
Understanding DER compliance to technical settings to guide future frameworks
According to AEMO, despite numerous upcoming projects, the transition to renewable energy is not progressing quickly enough to achieve the federal government's 2030 targets.
AEMO acknowledges that the market is responding to the expected closure of coal-fired power plants by investing in renewable energy, reliable generation, and storage.
However, the pace of progress is insufficient to meet the stated targets.
A substantial pipeline of potential future generation projects is proposed for the National Electricity Market, totalling more than 200 GW.
Among these, half are wind projects, and there are plans for 40 GW of battery storage.
Unfortunately, bureaucratic planning processes and a lack of transmission infrastructure hinder many of these projects.
AEMO plans to facilitate matters by implementing the following:
Enabling high penetrations of distributed energy resources (DER)
Ensuring sufficient visibility, predictability, and controllability across the power system to enable continued uptake of DER, allowing consumers to optimise for their circumstances and to harness DER flexibility in an increasingly two-way power system
Enabling new technologies to address system needs
Accelerating efforts to prove the capabilities of new technologies to support stable power system operation at times when coal and gas generators aren't running.
Conducting future power system studies
Additional efforts towards simulating the dynamic behaviour of the future power system, expanding our understanding of emerging issues and designing proactive solutions as we progress into operating conditions uncharted anywhere in the world.
Building operational readiness
Enhancing operational capabilities to adapt to a changing power system, including improved modelling approaches and tools, and increasing readiness efforts to securely operate the power system in new configurations for the first time.
---
We source, analyse, compare and rank commercial, industrial and multisite energy quotes. Obligation Free.
Chat with one of our experienced consultants today and get the insights your business needs to help manage the risk associated with volatile electricity and natural gas markets.
Our energy procurement service is obligation-free and provides a time-saving way of securing lower energy rates from our panel of fifteen energy retailers.