French power company Neoen which teamed up with Elon Musk's Tesla to hook its South Australia wind farm up to the biggest lithium ion battery in the world has signed a deal with EnergyAustralia to generate 150 Megawatts of solar power in New South Wales.
Neoen and EnergyAustralia did not give any information about the financial terms of the deal. Neoen will install 560,000 solar panels on a 550-hectare plot, West of Wagga Wagga. The plant will commence operations with a 100 MW output, but will eventually be expanded to increase production to 150 Megawatts.
It is understood that the plant will generate enough electricity to power 50,000 homes and total energy generated annually is expected to reach 380,000 Megawatt hours. Construction is set to start late this year.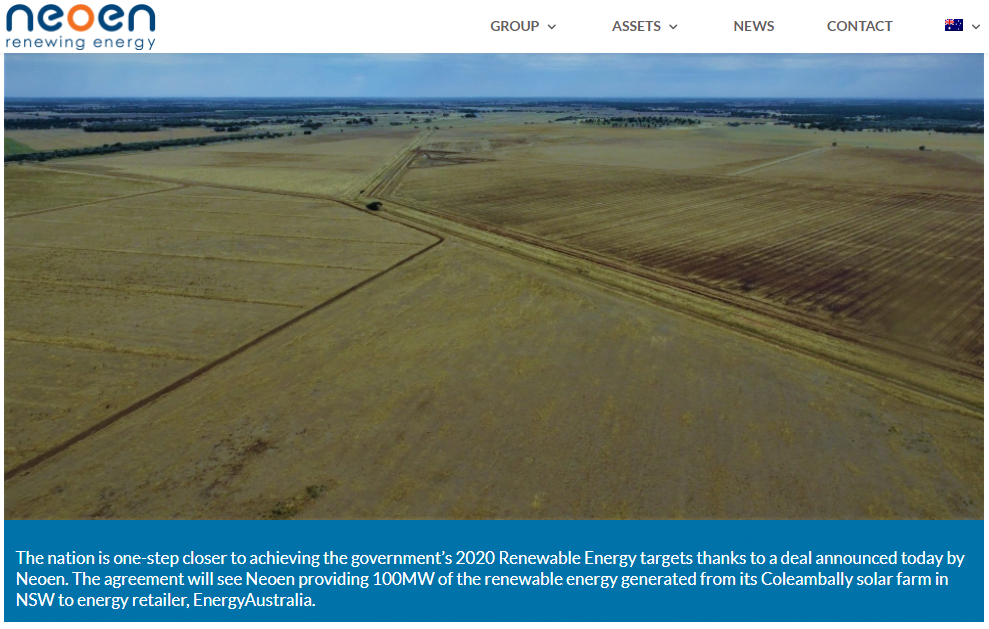 ---
Neoen solar plant subject to Environmental Impact Assessment
The project is now subject to an environmental impact assessment, but no problems are envisaged and work is already underway in terms of grid-connection studies.
In a statement released online, Neoen confirmed the deal, but did not reveal the photovoltaic panel provider. The company said that the new plant will help Australia on its march to meet its 2020 Renewable Energy Target.
Energy Australia is based in Melbourne and serves both residential and commercial clients in Victoria, New South Wales and South Australia.
The company also imports renewable energy from Queensland and recently signed a deal to purchase solar energy from the 142 Megawatt plant in Moss River.
---
About Leading Edge
Leading Edge Energy is an energy cost reduction consultancy. We assist our clients by applying a holistic lens to your energy costs whereby we guide you through the complete energy cost reduction cycle from rates minimization to energy efficiency, solar generation and battery storage.
Our initial review and assessment process is a complimentary service and you are not obliged to accept any offer that we recommend to you.
Call us today on 1300 852 770 or visit our website to get a quote