Renewable Solar and battery storage development is growing in North West Victoria as privately backed Lyon Group has announced a $660 million investment in the region.
The plant will be built in the Sunraysia township of Nowingi and is one of three ventures worth a total of $2 billion which Lyon partner David Green describes as a "world-first" tender to utilities, retailers and energy users offering services from power-on-demand to frequency and network control.
Renewable energy demand cannot be denied – David Green
But Mr Green says that these developments are taking place despite governments, not because of them. "The private demand for renewable energy can't be denied."
He said the volume of investment in renewable energy had shifted the momentum in the sector, despite the political uncertainty over energy and climate policy generated by the Federal Government.
Lyon will be seeking expressions of interest from electricity market participants – including generators, network owners and energy users – for contracts and other services to cover up to 640 megawatt-hours of storage capacity from the three projects across Victoria, South Australia and Queensland.
"The tender is a reflection of the new energy world the Finkel Report describes. It is real and it is happening. Lyon will enter into commercial contracts for real services provided by physical assets. This is not a theoretical exercise."
Renewable projects getting funding from big banks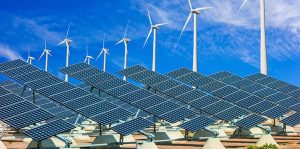 Mr Green said projects such as the Nowingi venture allow for much higher levels of variable low-emissions power, while strengthening supply security on the grid.
Lyon is a Brisbane-based partnership and is backed by heavyweights including Mitsubishi of Japan, US hedge fund Magnetar Capital and others. The tender will also offer products from two other Lyon projects, the already-announced Cape York venture in Queensland, costing up to $200 million, and the $1 billion Riverland project in South Australia.
Services on offer include energy price arbitrage, load shifting, "firming" back-up power, and other "ancillary" functions. Mr Green said the tender "turns the market on its head" by offering a range of potential services from batteries to networks, generators and energy users, instead of responding to a specific need of a market player.
The projects will be initially 100 per cent equity funded to allow for swift development, but would likely be refinanced with some debt capital once up and running. Banks are becoming increasingly comfortable with providing funding for battery projects, Mr Green said.
2.3 million solar panels and 80 megawatt battery storage system
The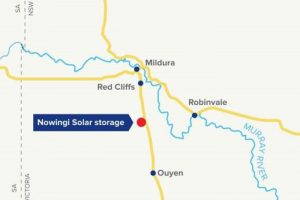 project's 2.3 million solar panels, with a capacity of 250 megawatts, will charge an 80 megawatt battery storage system able to run for about two hours, making it the world's second-biggest after the Riverland venture, announced in March.
Construction will start in June, involving 250 jobs, with the project expected to be up and running by December. Mr Green said the plant will improve the security and reliability of a stretched part of the power grid and "put downward pressure" on electricity prices. The Finkel review recommends a new set of "energy security obligations" be placed on generators and network owners to maintain inertia in local regions and to provide fast response supply, while new renewables projects may have to be supplemented by storage to deliver reliable power. Large-scale battery storage will be integral to meeting those obligations, Mr Green said. He said while the Finkel review is a very important piece of work and stability in policy is clearly needed, "there is a degree of inevitability in where we are heading". Lyon's Australian project pipeline currently comprises more than 1700 MW of large-scale solar and 1000 MW of large-scale battery storage.
About Leading Edge
Leading Edge Energy is an energy cost reduction consultancy. We assist our clients by applying a holistic lens to your energy costs whereby we guide you through the complete energy cost reduction cycle from rates minimization to energy efficiency, solar generation and battery storage.
Our initial review and assessment process is a complimentary service and you are not obliged to accept any offer that we recommend to you.
Call us today on 1300 852 770 or visit our website to get a quote