The future is bright for commuters in the idyllic seaside town of Byron Bay as the world's first solar train has begun operations to beat the traffic to the beach.
The project also shows the viability of solar-powered transport in a country that has sunshine all year round.
There have been a few novelty projects in the solar sphere of late, including China's solar-powered highway and its giant panda solar farm, but this solar train in Byron Bay is a first for Australia.
With the adoption of new technology, you might picture a futuristic train design, but the project actually involved the refurbishment of an iconic "red rattler", which runs exclusively on solar energy generated from panels installed on the carriages.
---
Byron Bay Solar train funded by former mining magnate
The project is the brainchild of former coal mining magnate Brian Flannery, who owns the Elements Resort in Byron Bay. Partnering with Nickel Energy and zero emissions racing company Elmofo, the consortium upgraded an old railway line and searched out a train which could be converted for the job.
Jeremy Holmes, development director of Byron Bay Railroad Company the not-for-profit organisation that manages the service, describes how they found a classic train, "We searched the country and found a dilapidated vintage train, restored it, and are now powering it with a 4.6 billion-year-old power source."
Volunteers from the Lithgow Railway Workshop also helped bring the red rattler back to life.
Flannery funded the Byron Bay solar train project with no government assistance, and has earned praise from industry and inspired hope that more projects will follow this one. The project has attracted worldwide media attention and has been touted as a way for smaller rural towns to beat the growing problems of traffic jams.
---
6kW rooftop panels and 77kWh of battery units
The '661,' as the train is sometimes known, made its first journey in December 2017 – a 6km round trip between Byron Bay station and North Beach. It currently runs an hourly service that can accommodate up to 100 people and, of course, surfboards and luggage.
Holmes said the Byron Bay solar train was able to make between 12 and 15 trips on one full charge. Given the current timetable of 16 total trips per day, even the smallest amount of sunlight means that the train can operate comfortably.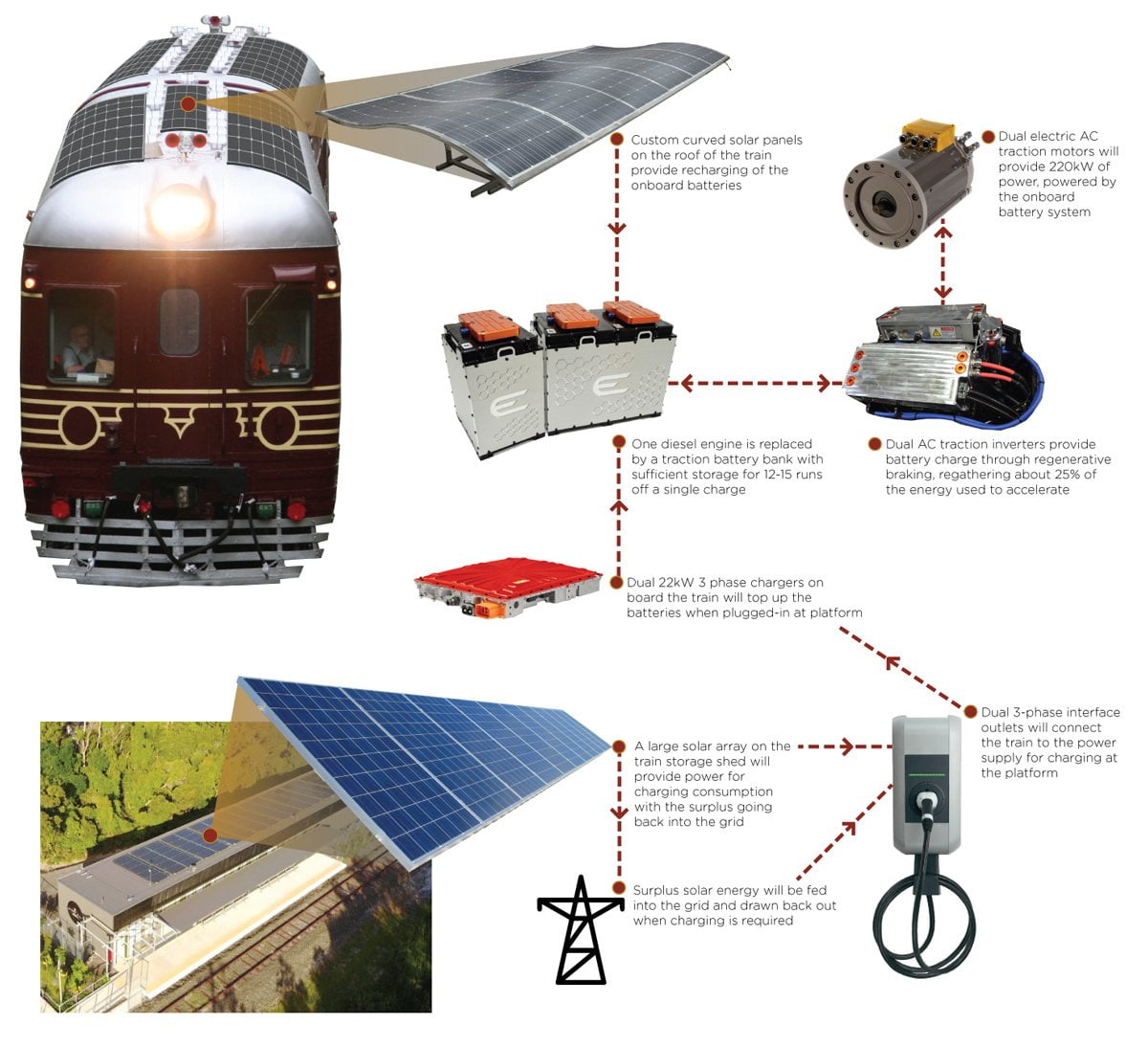 The train is equipped with 6 kW of custom-made flexible solar roof panels which are supported by 77 kWH of battery storage. This upgrade to renewable energy was installed to replace one of the train's two original diesel engines – the other was maintained to provide weight and balance, and to act as an emergency back-up in case of electrical issues but it isn't used in normal operations. The train recharges at the stations, which are outfitted with rooftop solar panels. In cases when the sun isn't shining, the Byron Bay solar train can draw clean energy from the electrical grid.
---
Future expansion hampered by rail line restoration costs
Mr Flannery said he would like to expand the project, but the cost of upgrading rail lines is extremely prohibitive and research has shown that extending the route to Murwillumbah, 50km away, would cost $150 million.
That said, Flannery is confident that solar is where rail travel is heading, and he believes that inner-city trams can benefit from solar technology too.
Meanwhile, John Grimes, CEO of the Smart Energy Council congratulated the team behind the Byron Bay solar train for rising above many roadblocks in order to create a true innovation in rail transport. He said, "Hopefully, this one train in regional Australia can demonstrate the possibilities of solar technology and the power of perseverance."
Holmes agreed and attributed the project's success to amazing innovations in engineering, stating that the Byron Bay Railroad Company's service exemplifies how, with the help of gifted engineers, an operation such as this can harness solar energy to create a sustainable solution for transportation.
---
Solar train fare structure
Despite the huge outlay in capital, prices for using the train have been kept reasonable.
The following fares are for a one-way journey:
0 – 5 Years – Free
6 – 13 Years – $2.00
14+ Years – $3.00
There is also a ten-ride adult ticket for $27.00 which provides a 10% saving.
---
History of the 600 class solar train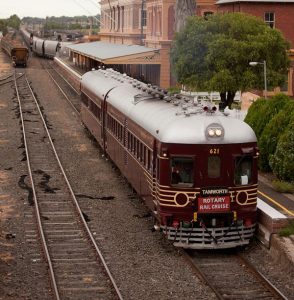 As mentioned earlier, the train used for the Byron Bay solar train isn't a reproduction of an old rail car but is, in fact, a refurbished vintage train that comes with a long history.
The two-carriage rail set was constructed at the Chullora Railway Workshops in Sydney, as the first of ten "600 Class" sets. Prior to building trains, from around 1942 to 1945, the Workshops were focused on constructing the Beaufort aircraft bombers prominent during World War II.
When the war ended, there was an upsurge in immigration from Europe, making the demand for transport around the state crucial. As a response to this, the Chullora Workshops began innovating, adapting the aluminium technology from their Beaufort aircraft to create high performing yet lightweight trains. These trains were even lighter in weight than the average "light rail."
The last two-car set, 638/738, was built in 1968 and came with the mighty Cummins diesel engine which made it more than capable for hauling a freight wagon through the sharp Casino to Murwillumbah track.
---
Learn about the latest technological developments in solar energy
Leading Edge Energy's experts keep track of energy-related tech improvements so we can continuously offer our energy efficiency services to businesses in Australia.
Want to read more? Visit our Blogs and News section.
Or if you want to get started on saving your business money on your energy spend? Contact us at 1300-852-770 or e-mail us at hello@leadingedgeenergy.com.au.