Tesla is partnering with Neoen to build the world's largest lithium-ion battery storage plant in South Australia and if it's not completed within 100 days, it will be free. In an announcement made today, SA Premier Jay Weatherill said the Tesla battery plant will be built near Jamestown and will store the energy produced by Neoen's 99-turbine wind farm which is under construction nearby.
---
100-days completion date for battery plant or your money back – Musk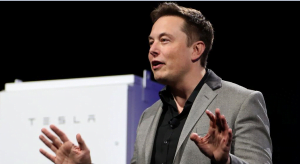 The project should be completed by the summer and Tesla genius Elon Musk has promised that the plant will deliver within 100 days of commencement, or it will be free.
The 100-day time frame kicks in once the grid interconnection agreement is signed in the coming days.
Understandably proud, the SA Government said that the plant will deliver 129 megawatt-hours of power and will place the state at the "forefront of global energy storage technology".
The South Australian Tesla battery storage giga-factory will operate 24 hours a day, seven days a week and will provide stability to the renewable energy produced in the state, and will also have the capacity to provide emergency backup power if a shortfall of energy is on the horizon.
Speaking at a packed press conference, Mr Musk said: "This project is not a minor foray into the frontier. There is certainly some risk because this will be the largest battery installation in the world by a significant margin … the next biggest battery in the world is 30 megawatts."
Mr Musk said this project goes three times further than any other, will make the grid more stable, and act as a power buffer.
Explaining the concept, Mr Musk said: "You can essentially charge up the battery packs when you have excess power when the cost of production is very low… and then discharge it when the cost of power production is high, and this effectively lowers the average cost to the end customer."
"The Tesla chief believes that the project brings some very essential improvements to the grid's efficiency.
Mr Musk also mentioned that the project would be primarily free for South Australian taxpayers if not delivered within 100 days.
"If South Australia is willing to take a big risk, then so are we," he adds.
---
South Australia Tesla battery storage plan was first tweeted by Elon Musk in March this year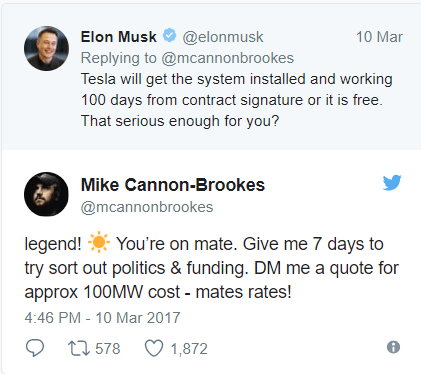 Leading Edge had reported that Mr Musk originally made the 100-day pledge in March this year. He said that he would sort out South Australia's power woes on his Twitter account.
South Australia has had significant issues with electricity recently, having suffered a statewide blackout last September and experiencing an intentional blackout during last summer's heatwave because there was not enough power to meet demand.
The SA Government decided to go it alone and announced a $500-million power plan, which included owning and operating a $360-million gas-fired plant and building a 100MW battery before summer.
Mr Musk, who will visit Jamestown before he leaves Australia, said the battery would be "nicely arranged white obelisks". He said that Tesla was going to make an effort to make the project aesthetically pleasing, adding that it could also become a tourist attraction. You can read more about Tesla's vision on their website.
---
South Australia will lead the world in battery storage technology
Mr Weatherill said South Australia had led the nation in renewable energy generation and will now lead the world in battery storage.
"It will completely transform the way in which renewable energy is stored, and also stabilise the South Australian network as well as putting downward pressure on prices," he said.
"It opens up new opportunities for renewable energy in this state, in this nation, and around the world."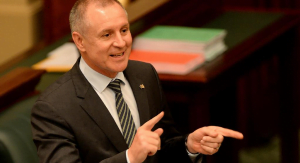 Mr Weatherill said the Government had about 91 international bidders for the battery project.
"That was of course assisted by a little bit of Twitter exchange in the few days before we released our plan between Elon Musk and also Mike Cannon-Brookes."
"This historic agreement does more than bring a sustainable energy giant in Tesla to South Australia, it will also have some significant economic spin-off," Mr Weatherill said.
---
Neoen proud to work with South Australia Government and Tesla
Neoen deputy chief executive Romain Desrousseaux said the French company was proud to work with the South Australian Government and Tesla to expand the Hornsdale Wind Farm.
"At 100MW and 129MWh, the Hornsdale Power Reserve will become not only the largest renewable generator in the state but also home to the largest lithium-ion battery in the world, with our company's long-term, direct investment in South Australia growing to almost $1 billion since 2013," he said.
Climate Council chief councillor Professor Tim Flannery said the state was moving away from polluting, expensive and inefficient fossil fuels.
"South Australians are witnessing firsthand how swiftly this technology can be built and used, with the battery expected to be up and running this summer," Professor Flannery said.
"South Australia joins the likes of California as a world leader in demonstrating how renewable energy and storage technologies can power our economy cheaply and cleanly."
The Tesla battery storage plant in South Australia just one among many developments in the energy industry that Leading Edge Energy keeps you up to date with. Aside from news, we also have advice on saving electricity like how to make your pub business more energy efficient and articles to help you understand topics like voltage optimisation.
Better yet, call us at 1300 852 770 or e-mail info@leadingedgeenergy.com.au so we can give you a one-on-one, personalised energy management consultation service. Our initial review and assessment process is complimentary, and you're not obliged to accept any offer we recommend to you.