After the Callide C explosion dominated the electricity markets in May, the June 2021 energy market delivered its own drama. This time severe flooding in Victoria threatened the Yallourn power station and coal mine and prompted the State government to declare an Energy Emergency. The crisis came just as Callide returned a second unit to operation. Futures, spot and gas prices are all up as the uncharacteristically quiet period from late 2020 seems to be coming to a close. Prices are still well below the highs of 2019 and our energy experts can help you negotiate a good deal. Give us a call now.
| | | | | |
| --- | --- | --- | --- | --- |
| INDICATIVE RATES | NSW | QLD | VIC | SA |
| PEAK | 6.84 c/kWh | 6.05 c/kWh | 5.29 c/kWh | 6.05 c/kWh |
| OFF-PEAK | 4.86 c/kWh | 4.33 c/kWh | 3.68 c/kWh | 4.33 c/kWh |
New South Wales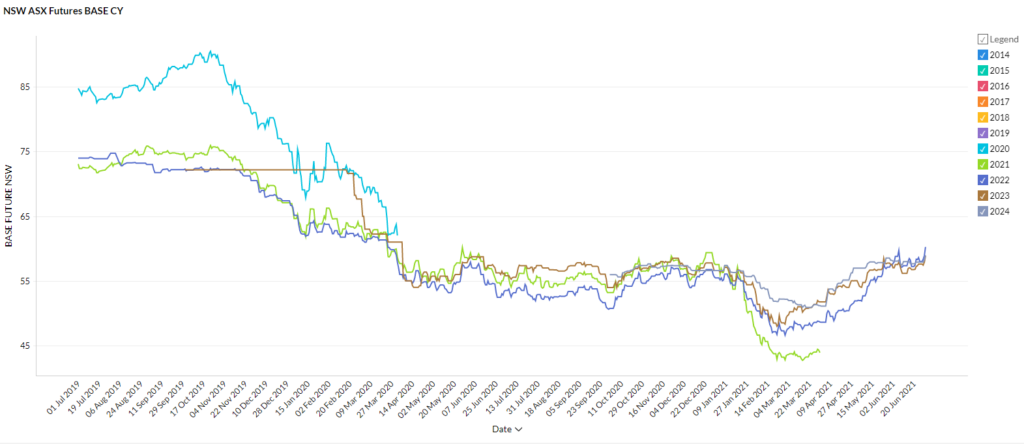 After rising steadily through May futures contracts have held steady in June.
All contract periods are trading between $57 and $58/MWh.
2022 and 2023 contracts are now trading around 25% up on February/March lows.
How did supply and demand affect price?
The explosion at Callide C in Queensland continues to affect NSW prices with reduced imports from Queensland and slightly increased exports from NSW.
With Callide operation on reduced output, gas has been stepping in, particularly in the morning and evening as solar ramps up and down, and this has caused prices to soar.
Spot prices are up 90% in NSW since the Callide explosion with June seeing over 150 intervals priced above $200/MWh and 36 intervals priced above $1800/MWh (the highest was $8022/MWh).
Callide C is expected to be out of operation for 12 months.
Victoria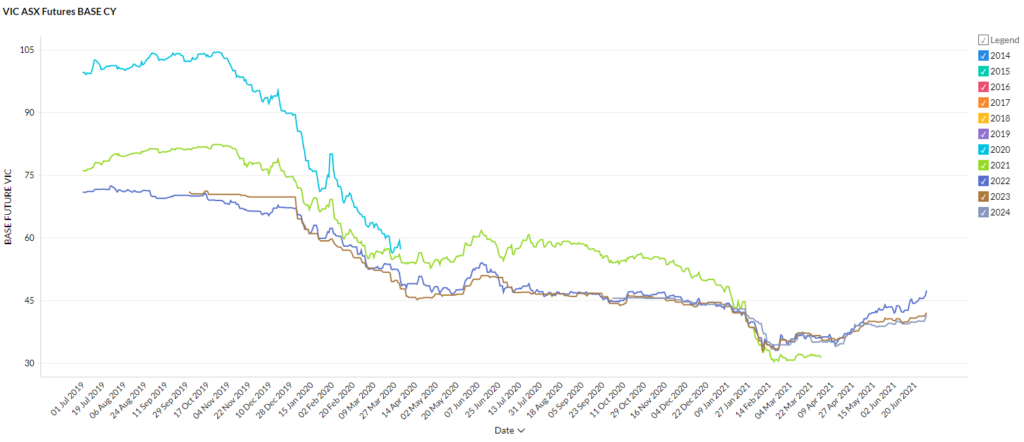 2023 and 2024 contract prices remained steady throughout June while 2022 continued to rise.
2023 and 2024 contracts are trading around $40-$41/MWh.
2022 closed out the month around $46/MWh having risen ~7% over June.
How did supply and demand affect price?
Victoria had a tumultuous month with flooding at Yallourn prompting the Victorian Government to declare an Energy Emergency on June 17.
The flooding threatens Yallourn's coal mine and power station and resulted in Energy Australia reducing output to 200 MW (out of 1480 MW) just as Queensland's Callide B1 unit was turned back on. At the time of writing three units at Yallourn are back online.
Spot prices were variable ranging from -$299 to $2642/MWh but the system was able to compensate for the Yallourn crisis with Newport increasing output and relatively small impact on prices.
Queensland

Queensland futures contracts were volatile over June with 2022 spiking 10% in one week to $54/MWh.
2023 and 2024 contracts have bounced between ~$43 and ~$46/MWh since late May.
How did supply and demand affect price?
The May Callide explosion continued to send shockwaves through Queensland's energy markets in June with spot prices up 177% since the incident.
Although 2 units are now back online, gas fired units are increasingly the marginal price setter during the morning and evening solar ramping periods.
With Australian gas prices jumping from $6 to $9/GJ in May and June this has driven Queensland's spot prices through the roof. June saw over 70 intervals priced above $100/MWh.
South Australia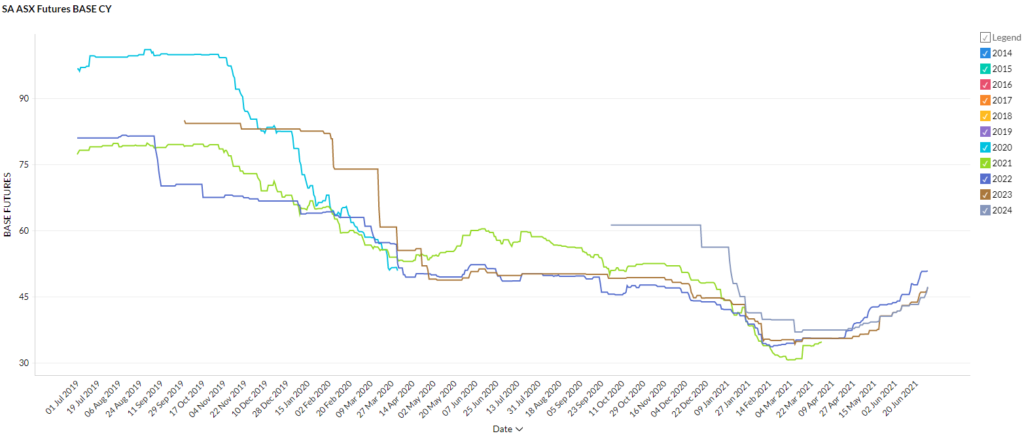 South Australia was the only state to see the upward trend established in May continue uninterrupted throughout June.
2022 contracts rose 16% over the month, finishing at ~$51/MWh. These contracts were trading at $35/MWh as recently as April.
2023 and 2024 contracts rose ~12% over June and are trading around $45-46/MWh.
How did supply and demand affect price?
SA spot prices were unremarkable for the month making the steep rise in futures contracts unusual.
South Australia's ample renewable capacity is supported by gas and the Heywood interconnector with Victoria. Although increased gas prices did not greatly impact this month's spot prices, the market may be pricing in higher gas prices in future contract periods.
In June most states saw a slowing down of the uptrend seen in May (South Australia didn't get the memo) but no signs of a reversal. As more drama unfolded in Victoria and gas prices soared, the June 2021 energy market seems to have ditched the rose-coloured glasses for the time being. Of course, futures contract prices are still well below the highs we have seen in recent years. Our energy experts are here to help you get the best deal so reach out to us now.
Disclaimer: The information in this communication is for general information purposes only. It is not intended as financial or investment advice and should not be interpreted or relied upon as such.