China continues to blaze a trail in the field of renewable energy by opening the world's first solar highway which is expected to generate 1,000 MWh per year.
The two-lane solar highway includes an emergency strip and has an area of 5,875 square metres running the length of one kilometre.
China has gone from being one of the worst offenders in global pollution to becoming a world leader within the space of five years. Over the last few years, China has ramped up its strategy to curb and eventually eliminate greenhouse gas emissions to combat killer smogs which have plagued major cities and industrial centres for the past decade.
---
What sets China's solar highway apart from others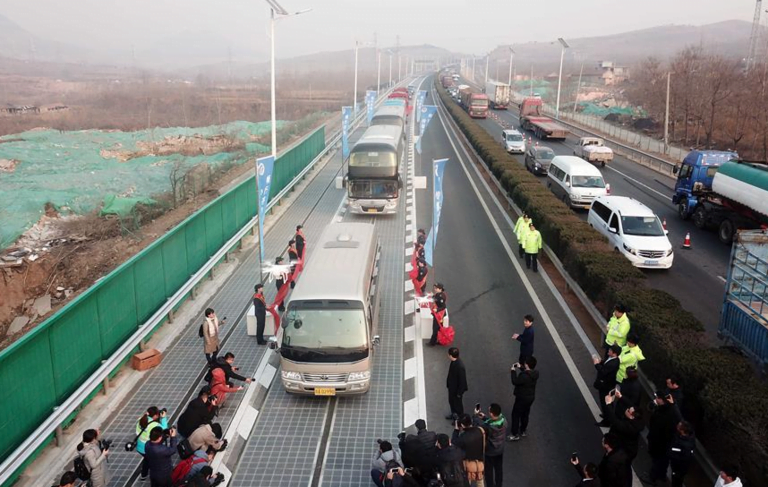 China's solar highway, located in the city of Jinan in Eastern China, is set to generate 1,000 MWh of electricity per year. The solar highway is built in three layers with insulation on the bottom, photovoltaic solar panels in the middle, finished with a layer of transparent concrete. Authorities said it can withstand 10 times more pressure than the typical asphalt road.
The generated electricity will be used to light street lamps and melt snow on the road. Another innovative feature of the solar highway is that the power it creates will be supplied to charging stations for electric vehicles.
It should be noted, however, that while the project is already way ahead of its time, its designers told the media that high construction costs – given current technology – could inhibit further developments.
Project designer Zhang Hongchao from China's Tongji University said building the highway cost around 3,000 yuan (AUD 600) per square metre to build compared to about AUD 250 for a regular highway.
---
China's solar highway cements top spot in renewable energy generation index
As we reported at the end of 2017, China launched the world's largest carbon trading scheme and earlier in the year, it began commissioning a vast solar farm in the shape of a panda to use its national animal's endangered status to highlight the issue of climate change.
While other countries around the world have also experimented with solar roads and walkways, China's effort dwarfs them considerably. In fact, France may have inaugurated the world's first solar panel road in late 2016, but it only made up half the area of the Chinese solar highway, which is 5,875 square metres compared to France's 2,800 square metres. The Netherlands, on the other hand, built a 72-metre solar bike path in 2014, which is even smaller than either project.
The collective scale of China's projects solidifies the country's position in 2016 as the world's top solar energy producer. According to the BP rankings for renewable energy generation, China produced 26% of the world's solar energy in 2016, followed by Japan with 14 %, Germany with 13.7%, the US with 13.4% and Italy with 6%.
Australia came in 10th place with 1.8% of the world's solar generation at a growth rate of 15%, although its position could change significantly as a result of a solar boom in 2017.
---
Does Australia have a solar highway future?
While South Australia is making headlines for its renewable energy charge, it is Queensland that is leading the pack in electric vehicle infrastructure.
Although there are currently no plans as yet for a solar highway in Australia, the Sunshine State is building an Electric Super Highway stretching all the way from Gold Coast to Cairns.
The carbon neutral highway will have several vehicle charging points to allow commuters to get from one city to another in electric vehicles.
The National Roads and Motorists' Association or NRMA is also expanding a fast-charging network for electric vehicles throughout NSW. The $10-million project includes more than 40 charging docks to be built across the region so owners of electric vehicles will be more inspired to drive longer trips.
So yes, Australia is already exploring the possibilities of solar energy in relation to transportation and roads, and we may very likely see this expand in the future as technology improves.
---
Learn more about solar power and its benefits
Read more about China's solar power projects or learn more about Australia's renewable energy initiatives in our News and Blog sections.
And if you want to learn how you might get huge savings on your business's electric or gas bills, consult Leading Edge Energy's energy experts. We can take you through the entire process of energy cost reduction for businesses which includes solar panel installation and energy efficiency integrations.
Call us at 1300 852 770 or e-mail us at hello@leadingedgeenergy.com.au for reliable, easy-to-understand advice from our experts.