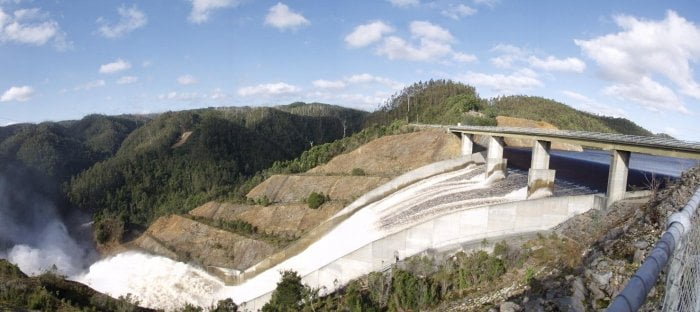 Tasmania is aiming to become totally energy self-sufficient on renewable sources by 2022 to prevent a repeat of the 2015 power crisis.
Tasmania currently uses 93% renewable energy, but new wind farm projects at Wild Cattle Hill and Granville Harbour will push that up to 100%. Both projects are expected to be complete by 2020 and the new target will be hit by 2022 by which time Tasmania will be energy self-sufficient.
The announcements were made by the Tasmanian state government following the publication of two parliamentary reports on energy security. The full report by the Tasmanian Energy Security Task Force can be downloaded.
---
In the drive to make Tasmania energy self-sufficient:
TAMAR Valley power station should be retained for energy security
HYDRO Tasmania's storage management policies should be reconsidered
ENERGY security should be the responsibility of the government of the day
MAJOR industrials should be consulted on any changes to energy security
VOLUNTARY or forced load shedding should not be factored into energy security
The policy, announced by Energy Minister Matthew Groom on 16 August, requires an additional 1000 gigawatt-hours of renewable energy generation — enough capacity to replace energy imports via the Basslink cable.
Tasmania's 2015 energy crisis came about after a drought which severely limited the energy output from Tasmania's hydro energy generation plants as well as a six-month outage when the Basslink cable was damaged.
---
Tasmania to be energy self-sufficient state by 2022
The State Government's position follows Prime Minister Malcolm Turnbull's April announcement that the Australian Renewable Energy Agency would contribute $2.5 million to a study into expanding Tasmania's potential for producing and storing more hydro and wind power.
The agency is assessing applications from Hydro Tasmania to replace the Tarraleah power scheme with a new station, which would produce 40 per cent more power and make use of a new 17km tunnel from Lake King William. In a statement, Hydro Tasmania welcomed the findings of the reports.
It is also considering an application to enhance the Gordon Power Station by installing an extra turbine and plans for new pumped hydro energy storage schemes to deliver 2,500 megawatts of power.
---
About Leading Edge
Leading Edge Energy is an energy cost reduction consultancy. We assist our clients by applying a holistic lens to your energy costs whereby we guide you through the complete energy cost reduction cycle from rates minimization to energy efficiency, solar generation and battery storage.
Our initial review and assessment process is a complimentary service and you are not obliged to accept any offer that we recommend to you.
Call us today on 1300 852 770 or e-mail us at hello@leadingedgeenergy.com.au to get a quote from our Energy Experts.