Australian households are paying the highest electricity prices in the world, a drastic reversal from the 1990s when bills were the cheapest in the in the world.
Prime Minister Malcolm Turnbull has summoned energy chiefs to Canberra to demand they do more to give people the information they need to make better choices about discounts and plans, but experts say more is needed.
As things stand, Australians are paying two to three times more than US citizens for power. Our power bills are, on average, higher than those in countries where electricity is taxed heavily, such as Germany, Denmark and Italy. This means that market price, Australians pay the highest electricity prices anywhere in the world.
Highest electricity prices in the world at market cost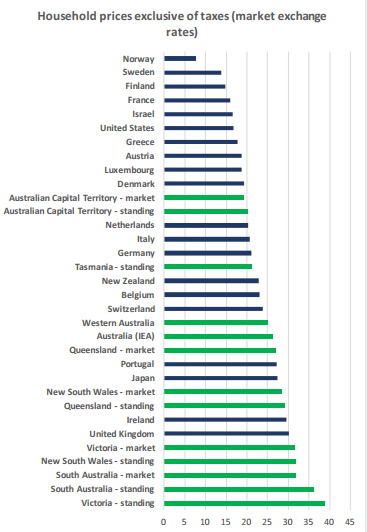 The dubious crown of most expensive prices in the world goes to South Australia, where households are paying 47.13¢ after the huge increases on 1 July 1, Carbon + Energy Markets' MarkIntell data service says. You can read the full report here.
NSW households typically pay 39.1¢/KWh, while Queensland and Victoria's typical retail charges reach 34 to 37c and 35.7c/KWh respectively.
When taxes are excluded, the four Australian NEM states have the highest electricity prices in the world. American households – which benefit from a large market and cheap and abundant natural gas – pay just US12.5c/KWh (15.75¢). The annual cost to households of accepting a standing offer from one of the big three retailers instead of the best offer in the market has been estimated at $830 in Victoria, $900 in Queensland and $1400-$1500 in NSW and SA by the St Vincent de Paul Society.
In a letter sent to energy chiefs, Mr Turnbull complained that big retailer set customers slip off the deep discounts they lured them in with after a year or two, and onto a costly standing offer or a much smaller discount.
Energy chiefs summoned to Canberra by Prime Minister
AGL Energy chief executive Andy Vesey admitted last year that big power companies were guilty of punishing their most loyal customers in this way, but later said AGL had changed its ways. Bruce Mountain from MarkIntell said power bills are constructed in such a complex way that ordinary customers without sophisticated spreadsheet and analytical skills have little hope of analysing competing offers to work out which offers them the best deal.
Private comparison websites do not include all market offers and charge retailers for switching customers, while the websites offered by the Australian Energy Regulator and the Victorian government do not provide the tools customers need to discriminate among offers.
"It's a market characterised by very high search costs which means it is very hard to find the right offer and people make mistakes. Customers are alienated and it's characterised as 'people are lazy'," Mr Mountain said.
Energy Minister Josh Frydenberg said the government wanted energy retailers to be more transparent around electricity bills, and left open the option of regulation.
Rod Sims, Australian Competition and Consumer Commission chair, wants "much cheaper" electricity for consumers and more suppliers to break the market power of the big players.
"People may get a discount for one or two years but remain on a contract for five or six years, but they don't know when the discount ends and therefore they don't know when they could be getting a better deal elsewhere," he said.
Origin chief Frank Calabria welcomed the opportunity to discuss the problem with the Prime Minister. "We're acutely aware of how price rises are impacting Australian households and businesses," Mr Calabria said. "All of us in the industry and the government need to work urgently together on the issue."
An EnergyAustralia spokesperson said record prices and outages make it "hard to argue that the energy system is working as intended, in the interests of families and businesses" and electricity is "an essential service and a vital social good which must be available when people need it, and at an affordable price".
About Leading Edge
Leading Edge Energy is an energy cost reduction consultancy. We assist our clients by applying a holistic lens to your energy costs whereby we guide you through the complete energy cost reduction cycle from rates minimization to energy efficiency, solar generation and battery storage.
Our initial review and assessment process is a complimentary service and you are not obliged to accept any offer that we recommend to you.
Call us today on 1300 852 770 or visit our website to get a quote