After months of pressure, Australia's national electricity market imploded this month. With all NEM regions bar Tasmania breaching their cumulative price thresholds, AEMO instigated an administered pricing regime capping spot prices at $300/MWh before completely shutting down the spot market saying it had become 'impossible to operate'. The crisis is the culmination of a perfect storm encompassing domestic energy policy, international relations, wild weather, bad luck and everything in between. The exact causes – and potential remedies – are the topic of a heated public discussion that will likely continue for years. But right now, businesses are struggling and looking for a path forward. Our June 2022 energy market review is designed to help you see the road ahead and our energy experts are available to help you navigate it. Reach out now.
INDICATIVE
RATES
NSW


(c/kWh)

QLD


(c/kWh)

VIC


(c/kWh)

SA


(c/kWh)

PEAK
19.47
14.85
11.85
11.80
OFF-PEAK
9.87
8.52
7.38
7.40
---
New South Wales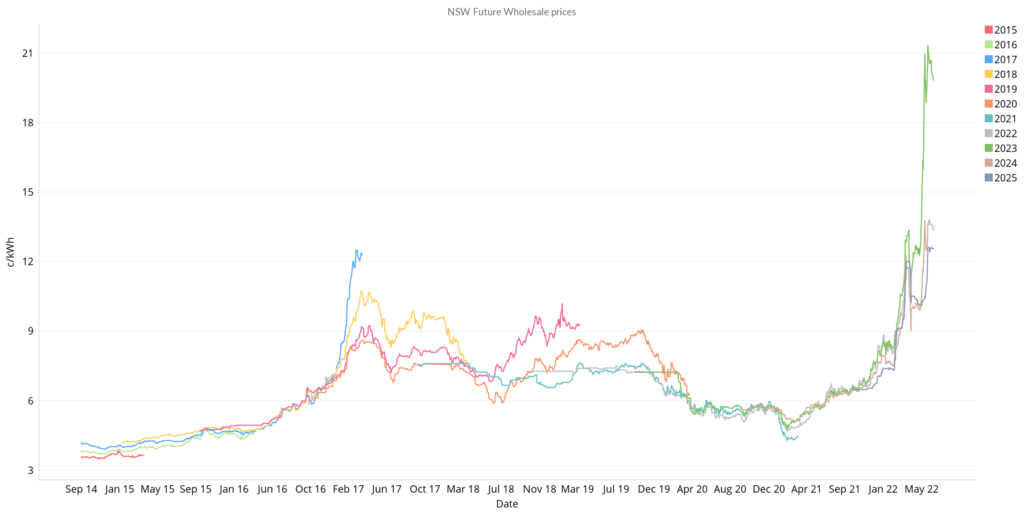 2023 and 2024 contracts remained relatively flat over June albeit at extremely high levels.
Contracts are trading at $201/MWh and $135/MWh for 2023 and 2024 respectively
2025 contracts soared 15% to $125/MWh indicating buyers anticipate the state's energy woes aren't ending any time soon.
How did supply and demand affect price?
NSW was one of many states to be told repeatedly to brace for blackouts throughout June as a cold snap drove up demand.
Supply was hit by a combination of outages, soaring fuel prices and supply chain issues.
Outages at Bayswater units 3 and 4 and Liddell unit 4 took out a combined 1,820 MW of registered capacity.
Meanwhile, Australia's largest coal plant Eraring announced it was running out of coal. The "material under-delivery of coal..(resulting) in lower output from the plant" is expected to persist into FY23.
At the time of writing Bayswater unit 4 was back up and running with Bayswater 3 and Liddell 4 both expected back at the end of July leaving a significant gap during one of the coldest months of the year.
---
Queensland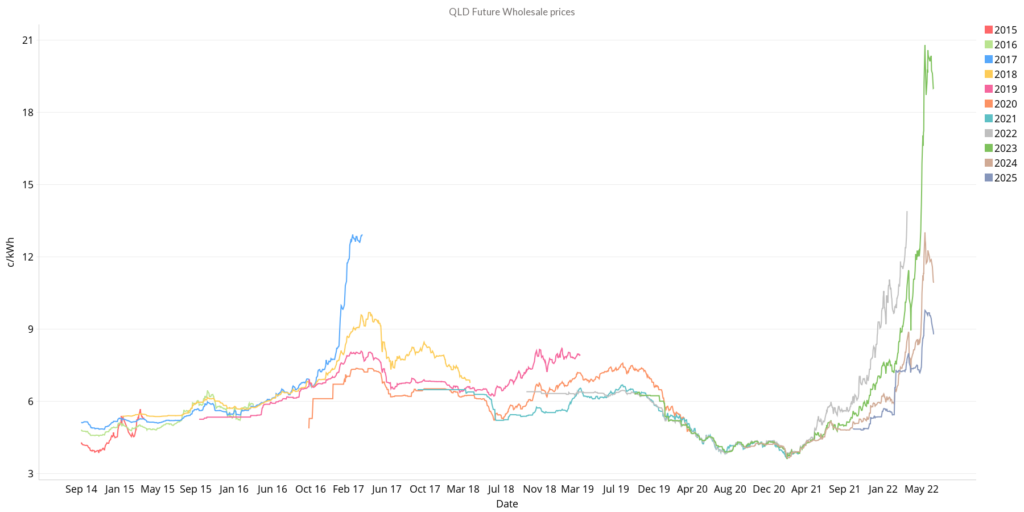 2023 contracts were relatively flat throughout June, hovering around the staggeringly high $200/MWh mark.
2024 contracts traded between $110 and $120/MWh while 2025 contracts fell steadily from $100 to $90/MWh over the month.
How did supply and demand affect price?
Queensland had as many as seven generators out during June 2022, with the state narrowly avoiding load shedding and blackouts on a number of occasions.
Black coal and gas supplied 80% of the state's electricity in June leaving it highly exposed to international fuel prices.
Supply chain issues due to extreme weather and flooding exacerbated the situation, shutting down vital rail lines and forcing coal deliveries to be carried out by truck.
At the time of writing, Callide 3 is back online while Callide 4 will remain offline until April 2023 due to the major fire that occurred in May 2021.
---
Victoria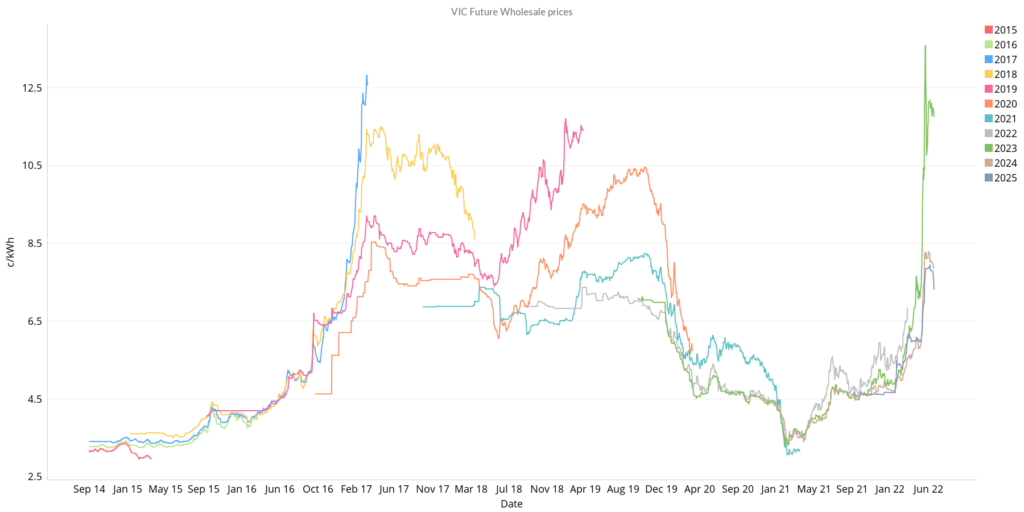 2023 contracts fell from the high of $136/MWh at the end of May to $108/MWh in the early days of June before settling around $120/MWh for the rest of the month.
2024 and 2025 contracts traded flat at around $80/MWh which are the cheapest prices available in the NEM at the moment.
How did supply and demand affect price?
Victoria is being spared the worst of the current crisis thanks to an unlikely partnership between brown coal and renewables.
Renewables supplied 38% of Victoria's energy in June with 55% coming from brown coal. Both energy sources shielded Victoria from the international energy crisis. Renewables because they require no fuel inputs and brown coal because there is no export market for it.
Despite these benefits, Victoria is still being impacted by gas prices and a slew of thermal outages. Coal generating capacity was down 28% for parts of June with outages taking out half the capacity of Yallourn (units 1 and 4) and Loy Yang A unit 2 representing a combined 1,270 MW of capacity.
At the time of writing Yallourn 4 is back online with Loy Yang's technical issues are not expected to be resolved until August. Yallourn 1 is still offline.
---
South Australia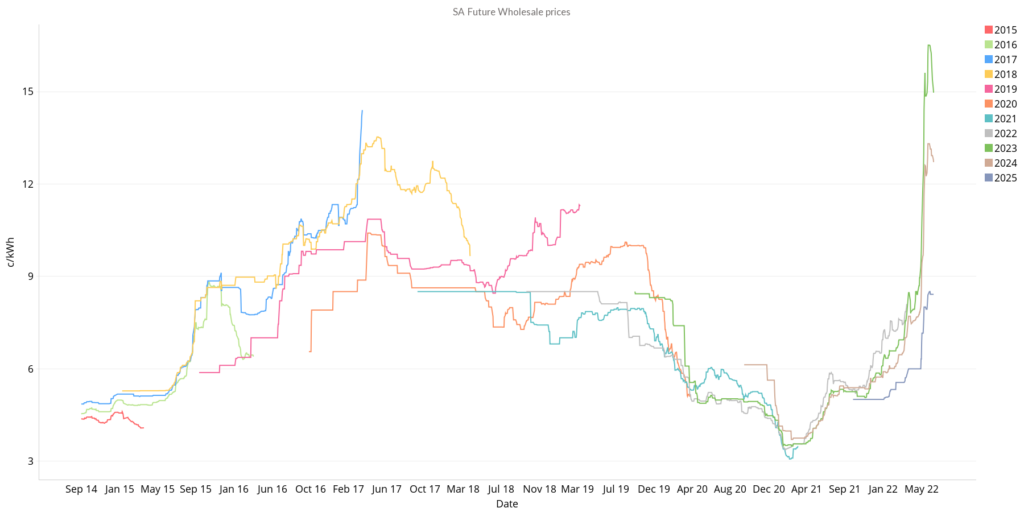 As in other states, SA's future contracts traded high and flat throughout June.
2023 contracts hovered around $160/MWh, 2024 traded around $130/MWh and 2025 sat around $85/MWh joining Victoria's 2024 and 2025 contracts as the cheapest available in the NEM.
How did supply and demand affect price?
SA's prices continue to be pulled in opposite directions, dominated by the cheapest and most expensive fuels in the NEM – renewables and gas.
Renewables supplied 57% of the state's electricity needs with gas supplying 35% and imports rounding out the total.
Despite the different fuel mix, SA reached the cumulative price threshold on the same day as NSW and Vic and entered administered pricing on July 13th.
---
An energy crisis that has been decades in the making came to a head this month and futures energy markets appear to be frozen like a deer in the headlights. The June 2022 energy market saw that all regions traded high and flat; the market is seemingly unsure if things can get any worse or if the return of some coal-fired plants will see an easing of the current situation. We know many of our customers are doing it tough right now and, as experienced energy brokers in Australia, Leading Edge are here to help. From contract options to developing business cases for onsite generation, our energy experts are always ready to help develop an energy strategy tailored to your business.
---
Disclaimer: The information in this communication is for general information purposes only. It is not intended as financial or investment advice and should not be interpreted or relied upon as such.