Understanding one's energy bill is not exactly a straightforward affair, so sometimes errors can slip through. Leading Edge Energy encounters some type of anomaly in 1 out of every 10 energy bills we come across thus resulting in an overcharged electricity bill. But if you know what you are looking for, you can actually make some substantial savings by correcting any errors.
It definitely helps to know the type of invoice you're looking at. Do you have a bundled or an unbundled invoice? Here's how you can tell:
You have a bundled invoice if you're considered to be a Small Market consumer, that is, if your energy plan is for a residence or Small and Medium Enterprise (SME). However, if you are running an energy-intensive business, you're supposed to be getting Commercial & Industrial (C&I) rates in an unbundled invoice since you're what is considered to be a Large Market consumer.
Bundled invoices are simpler in format, but they can also be hiding extra costs. Meanwhile, unbundled invoices allow more scrutiny of different inclusions like direct metering fees, network charges, and market rates but they often come with high exit penalties and have less protection by the law.
But knowing your type of invoice is just the first step. To actually start getting more savings, you'll need the help of an energy cost-reduction expert like Leading Edge Energy.
In fact, here's how we helped a client resolve an overcharged electricity bill.
Situation
The Port Campbell Hotel in Victoria spoke to Leading Edge Energy hoping to have their energy bill analysed for potential energy savings. After a thorough inspection of Port Campbell Hotel's billing, we found that they had been put on the wrong default rates even though they had requested to be put on a small business plan with Origin Energy.
Leading Edge Energy then opened a case against the retailer for overcharging the client and Port Campbell Hotel then received a $12,900 credit refund from Origin Energy.
How we fixed the overcharged electricity bill

Leading Edge Energy analysed Port Campbell Hotel's bill and we were able to establish that although Origin confirmed that the Port Campbell Hotel had signed up for the small business plan, they were actually put onto large business default rates which were 27.5c/kWh for peak, and 15c/kWh for off-peak, plus all other charges.
As it had become apparent that Port Campbell Hotel had been put on the wrong default rates. Leading Edge Energy opened a case with Origin informing the retailer that our client had been paying more than they should. Acknowledging the error, Origin provided 13 months' refund in credit.
How to read your bundled invoice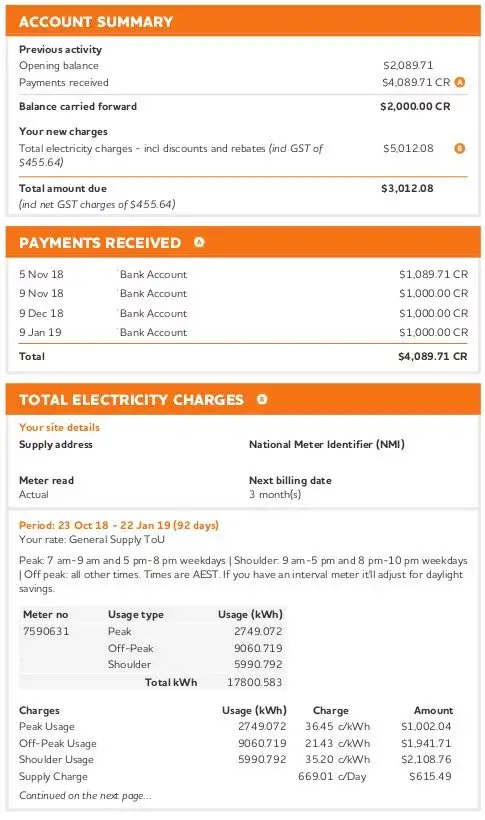 If you're a small market customer – you can find out how you're classified by checking out the Australian Energy Regulator (AER)'s Energy Made Easy website, the energy market is uncomplicated and more tightly-regulated than the market for large enterprises so your billing statement will reflect a simpler energy-use structure.
The small market is typically characterised by:
Simplified billing format (bundled billing);

Understandable supply contracts with lower exit fees;

Fewer choices of retailers, retailers, and metering

Stricter pricing regulation;

More protection by

competition law

;

Representation from ombudsmen;
Residential and SME customers generally receive invoices in the bundled format. Here, rates are "bundled-up" in simple Peak, Shoulder, Off-peak, Demand and Service charges, as you'll see in the example above.
In other words, what is normally broken down into details in the unbundled format like network charges, environmental fees, etc., are hidden in a "bundle" and the final base rates end up more expensive.
It should be noted that small market energy rates only change once annually, as opposed to the multiple rate fluctuations the large market may go through in a year, but discounts that come with it may vary from retailer to retailer.
Understanding your energy bill – Large Market Customers (unbundled)
Large market intensive energy users are considered more sophisticated energy consumers who scrutinise billing. The C&I system involves:
Complex billing structure (unbundled billing)

Detailed and restrictive supply contracts with high exit fees

Greater choice when it comes to retailers, network tariffs and metering

Limited pricing regulation

Less protection by competition law

No representation by offices of the Ombudsman
Unbundled invoices are comparatively more transparent than bundled invoices which, as mentioned earlier, can be hiding some fees and charges. Unbundled bills offer more details about what the customer is paying for.
Some charges you will find on the C&I bills but not in the bundled bills are:
Energy charges

Network charges

Environmental charges

Market charges

Metering charges

Retail service charges
Since these aren't hidden or "bundled" in the final base rate, consumers who pay the unbundled bills will find that their rates are significantly cheaper than what's offered to SMEs.
This is because the other charges are kept separate but are still paid through the retailer who's basically an intermediary for the client and energy generator. Once the bill is settled by the customer, all the outstanding charges will be paid by the retailer.
Additionally, with the help of Leading Edge Energy's expert analysis of energy billings and the advice we can give, C&I consumers can take steps to make their energy bills cheaper by going to tender with us and choosing a retailer that can give them a better price, purchasing renewable energy, or offsetting their carbon footprint, and other measures.
Still need energy bill assistance to see if you're being overcharged?
Our Energy Experts are experts at helping business owners like you make sense of your bill, secure better rates, and ensure everything that's on your billing is accurate and valid – no more overcharging!
Call us on tel: 1 300 852 770 or send us an email on hello@leadingedgeenergy.com.au.