The New South Wales Government has signed off on a $3.2 billion electricity contract to Shell and Edify Energy, which will include the construction of a 100 Mw battery in the state's Riverina region.
The 100-megawatt battery is being built adjacent to Edify's Darlington Point Solar Farm, which began operations earlier this year.
The plant has just shy of 1 million solar panels, which is enough to supply 115,000 households with clean electricity and offsets 150,000 tonnes of carbon dioxide emissions every year.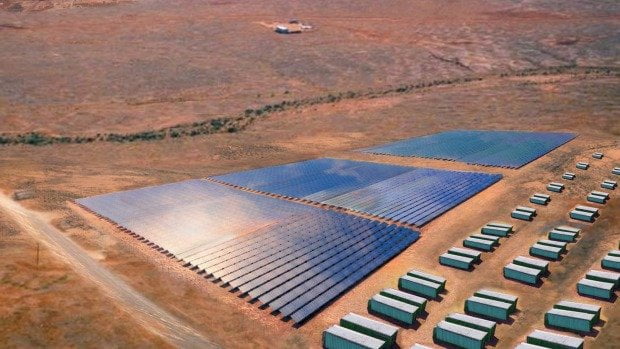 ---
Electricity, solar and battery deal will offset Liddell's exit in 2023
NSW Energy and Environment Minister Matt Kean said that the $3.2 billion electricity contract will help allay any fears of shortages caused by the exit of AGL's Liddell coal-fired power plant in the Hunter Valley in 2023.
Mr Kean said the deal provided New South Wales with great value for money and energy security adding that it would encourage more large-scale renewable energy projects.
He said that the New South Wales Government was the second largest energy customer in the state, and wanted to use its purchasing power to leverage new dispatchable capacity.
He said that the battery will help to keep the lights on and put downward pressure on prices during peak periods.
The contract falls into line with the NSW Government's Electricity Infrastructure Roadmap, which passed through parliament last year.
The NSW Government's plan is to accelerate up to $32 billion investment in renewable energy generation, as well as transmission and distribution.
The Riverina Region is one of five zones included in the roadmap, which also includes the Central-West Orana, New England, South-West, Hunter-Central Coast and Illawarra regions.
The New South Wales Government's announcement came off the back of the Federal Government giving the green light for a new gas-fired peaker at Kurri Kurri in the Hunter Valley.
The Federal Government had invited the private sector to submit proposals to create 1,000 MW of new generation to replace Liddell, but the appetite for fossil fuel generation is simply not there.
---
Investors moving away from fossil fuels to invest in renewables
The NSW Government announcement was met positively by the Clean Energy Council which said that the contract was another example of people and investors making commercial decisions to back renewable energy projects over fossil fuels.
CEO Kane Thornton said that 600 MW of large scale battery capacity had been signed off in Australia in Q1 of 2021, showing that the momentum is continuing.
Edify CEO John Cole said the advantages of large scale batteries in support of energy firming in a "brave new world" of renewables was supported and well documented.
He said energy storage is fast becoming a valued solution for the National Energy Market, due to its fast and flexible response capabilities.
Batteries, such as the Neoen-Tesla venture in South Australia have already come to the rescue of the NEM on more than one occasion and have prevented blackouts.
The uncertainties in this growing technology are reducing and with it, the barriers to acceptance from market and network participants said Mr Cole.
---
Want to learn more about battery storage?
Major energy projects like this one can impact you as an energy consumer. But while this is still developing (subscribe to our newsletter for updates) there are ways your business can already benefit from solar energy and battery storage, earning you savings on your commercial electricity bills. Just contact our Energy Experts and we can discuss the advantages of switching to solar, as well as other energy cost-reduction procedures we can assist your business with.
Sound good? Get started and call us at 1300 852 770 or send us an email at hello@leadingedgeenergy.com.au.