There are many reasons why switching your business to a commercial solar-powered system makes sense. In fact, we cover some of them in our article Go Solar with Leading Edge Energy, so you may be quite familiar already and perhaps, eager to jump into the solar energy future. But before you do, there are a few questions about installing solar energy for your business that you need answers to.
We guided Bateau Bay Hotel through an energy cost reduction process that resulted in making a $60,000K savings annually over their multi-sites.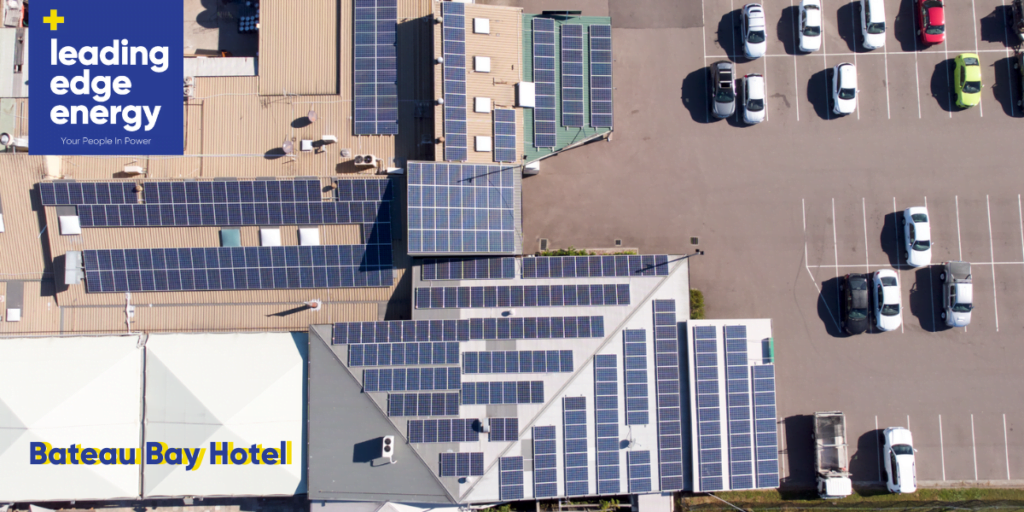 ---
Things you need to know before installing commercial solar
1. Is my contractor licensed and experienced in installing solar panels for businesses?
The switch to solar involves a substantial investment, so it's best to go with someone who's not only legally allowed to perform the task but is also an expert. This ensures that you're getting good quality equipment from someone who can install them properly.
Whilst you may be dealing with a solar company for the sale, that solar company may then contract an installer to do the job. If the installer is not particularly skilled in building commercial systems, this may cause issues with your investments.
Just to underscore the importance of working with a solar contractor that's legally allowed to do the job, a few years back we posted a blog about an unaccredited PV panel install and electrician who were caught by the Clean Energy Regulator. Aside from not having the proper credentials, the unlicensed contractors were also doing shoddy installation jobs – a risk you may take on yourself if you don't vet your suppliers properly. The same article also speaks about the importance of maintaining standards from rooftop solar installers and suppliers.
2. Is the equipment my contractor uses up to code?
Low-quality or faulty solar power systems can be unsafe, plus they won't last as long in Australia's harsh, changing climate so you want to work with a provider that uses thoroughly vetted equipment. You can check the Clean Energy Council's lists of approved manufacturers for fire-tested modules, inverters, and batteries to learn more.

You may also check this list of Australian standards for solar power systems on the LG Energy website.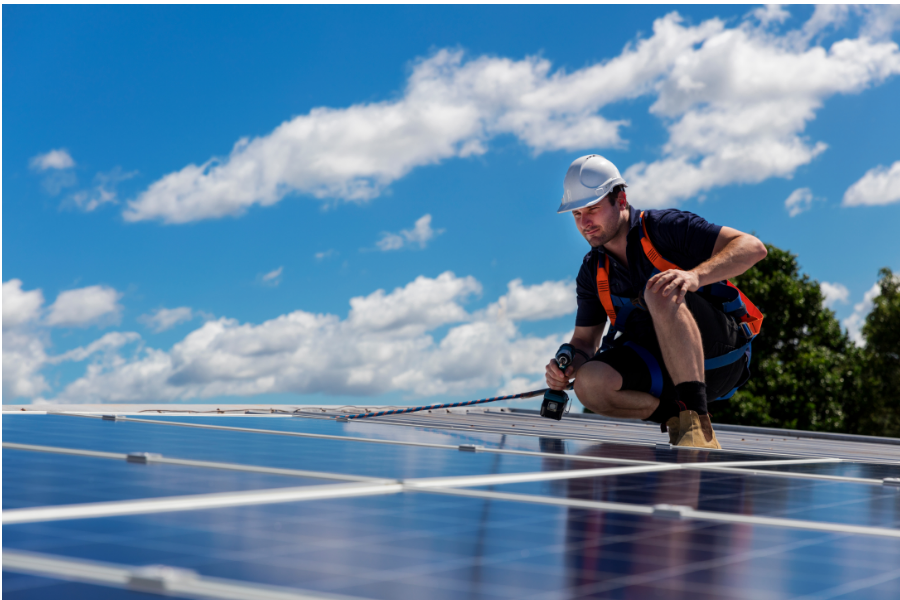 3. Is my business premises suited and safe for rooftop solar?
Not all roofs are built the same way, so it's important to ask your contractor if your roof is ready to receive photovoltaic panels. Have your contractor inspect your roof first to know if it has enough area for the number of photovoltaic panels you need, receives adequate sunlight, and can support the panels.

That said if you do want to switch to solar but your business' roof is obscured by trees, or if you're only renting your space so you can't make permanent changes to the site, you may be eligible to join other organisations in an off-premises multi-site power purchase agreement (PPA).
4. What are my guarantees if the installed system doesn't perform as expected?
As with anything you buy, you want to make sure that you're getting your money's worth. At the onset, make sure you and your contractor agree on the compensation in case the system doesn't produce the promised amount of electricity or if doesn't keep to the claimed quality standards.
It should be noted that your system may be built according to your site's current size and requirements, thus if you expand in the future, you may have to revisit this with your installer.
For your reference, the Clean Energy Regulator has a table that tells you who you might approach for concerns or complaints regarding your commercial solar power installation.
5. What are my options?
Leading Edge Energy can help you to get your business started on the road to savings with solar energy.
Start with an obligation-free consultation with our patient and knowledgeable experts, then if you're ready, we can set up a site visit to inspect your premises. After a solar tender process with some of the country's top solar providers, you can pick out the best offer for your business' energy needs!

We'll guide you all the way through the process of installing solar power for your business to help ensure that you get the most bang for your buck. After all, we're Your People in Power.
---
Still have questions?
Want to learn more about installing solar for your business as well as other ways to reduce your commercial or industrial energy costs? Contact our Energy Experts at 1300 852 770 or hello@leadingedgeenergy.com.au and we can see whether if power purchase agreements, multi-site energy management, and energy efficiency upgrades will benefit your business.
We're ready to help!